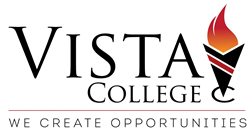 "Our classes are designed to not only provide CE credits, but also help professionals grow in their accounting careers," said Jim Tolbert, CEO, Vista College.
Richardson, TX (PRWEB) March 21, 2017
Vista College is now offering an online continuing education (CE/CPE) program for accounting professionals via a new Continuing Professional Education (CPE) website (http://accounting.vistacollegepro.com). This program provides a convenient, accessible solution for prospective students who are looking to satisfy their continuing education requirements for the purpose of maintaining professional designations. This particular course has been designed to aid in meeting CPE requirements for Certified Public Accountant designation holders.
"Professional development is required in many states for licensed CPAs and PAs, and Vista College's new online program provides a self-paced way to earn those credits from the comfort of home," said Jim Tolbert, CEO, Vista College. "The tremendous amount of flexibility we provide to students – often juggling classes with careers and family obligations – is a huge benefit of our programs and a large reason for Vista's ongoing success."
Each course includes comprehensive online readings and materials that students can work through at their own pace. Review questions and reference materials follow the readings to reinforce the material and provide students the opportunity to apply what they have learned in a question and answer format. The last step is a final examination that assesses understanding of the material. Students who pass this exam earn a certificate of completion, verifying they have passed the course and earned continuing education credits.
Developed by experts in the field, classes include Accounting Tools and Metrics for the CFO; Accountant's Guide to Financial Management; Analyzing and Using Financial Statements; Analyzing Cost Data for Management; Analyzing the Corporate Annual Report; Balance Sheet: Reporting Liabilities; Effective Business Communication; Financial Concepts and Tools for Managers; Financial Essentials for Not-for-Profit Managers; Understanding and Managing Organizational Behavior; Understanding the Economy; and Valuations: Businesses, Securities, and Real Estate.
"Our classes are designed to not only provide CE credits, but also help professionals grow in their accounting careers," added Tolbert. "We also feel it's important to provide courses to reinforce soft skills – critical to success in the workforce – including courses focused on communication and management. Vista's goal is to not only help students learn new skillsets, but also improve upon existing ones at any career level."
For years, Vista College has provided continuing education credits through the State CE program, including courses focusing on insurance, HVAC, cosmetology, and many more. The accounting program is the first provided through its own website.
Vista College is registered with the National Association of State Boards of Accountancy (NASBA) as a sponsor of continuing professional education on the National Registry of CPE Sponsors.
For more information on Vista College, go to http://www.vistacollegepro.com
###
About Vista College:
Vista College is a network of private, post-secondary career colleges offering a variety of training programs. These include healthcare, business, cosmetology, legal, technology and trades. Vista College offers online programs and has seven on-ground campuses in Texas (Amarillo, Beaumont, College Station, El Paso, Killeen, Longview and Lubbock), and campuses in Las Cruces, New Mexico and Fort Smith, Arkansas. Vista College is accredited by the Commission of the Council on Occupational Education located at 7840 Roswell Road, Building 300, Suite 325, Atlanta, GA 30350. Call (770) 396-3839. Vista College also has a separate Online campus accredited by the Accrediting Commission of Career Schools and Colleges (ACCSC). Consumer information may be viewed at http://www.vistacollege.edu.