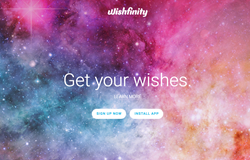 This paradigm shift creates a powerful distribution chain for retailers and manufacturers as kids now have direct purchase power.
Pleasanton, CA (PRWEB) July 20, 2017
Just weeks ago Wishfinity announced the public launch of its mobile application providing parents and kids with an innovative chore chart and allowance system via the company's wish delivery engine. Moving the reward chart off the fridge and into the hearts of users. Wishfinity recognized that mobile alone wasn't enough and is now expanding accessibility of the service to the web with their latest release at app.wishfinity.com. According to Board Member Stephanie Katcher, "Today's consumers rely on convenient access across multiple devices and platforms to integrate a digital service into daily life." Despite the glut of chore chart mobile apps on the market, few if any have a companion web service.
Further advancing the rich shopping experience for kids and automation of reward fulfilment for parents, Walmart.com joins Amazon as a Wishfinity supplier. Older chore chart applications utilize virtual stars and gimmicky stickers in an attempt to entice kids to perform tasks around the house. This method fails to create a personal investment for the child, resulting in a lack of use by the child, particularly as they age. Allowance systems may provide greater incentivizing than stickers, but the returns and emotional reward are diminishing. By providing the child a vehicle to catalog, earn, and purchase toys, games, and experiences directly, the child becomes the driving force behind the chore chart, not the parent. This paradigm shift creates a powerful distribution chain for retailers and manufacturers as kids now have direct purchase power.
Reward products fulfilled by Wishfinity are a win for both the parent and child. By letting a child personally select from an inventory of millions of items, they're more engaged in the process and more likely to achieve the behavior or skill that their parent wishes. Once a child has earned enough credit to purchase their wish, he or she can redeem with the click of a button. Wishfinity then automatically ships the merchandise to the family's home, eliminating the parent's necessity to drive around town hunting for the specific goodie that the child has earned. Each delay in reward fulfilment risks interrupting the child's motivation to complete additional achievements.
Now that Wishfinity provides both mobile apps and a web service, it's even easier for families to communicate in real-time and dynamically track accomplishments. As Founder and CEO Lee Bellon points out, "Today's release of the Wishfinity web service and Walmart.com integration is another important step in our mission to be a constant companion for our customers, advocating their wishes, no matter where they are and what technology they're using."