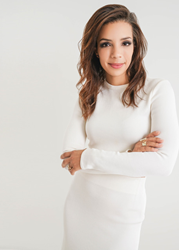 San Francisco (PRWEB) June 29, 2017
Haute Beauty is pleased to welcome Silicon Valley-based, board-certified plastic surgeon Dr. Kamakshi R. Zeidler into its network of beauty and wellness experts.
A thought leader with a unique vision and understanding in a broad spectrum of plastic surgery procedures, Dr. Kamakshi Zeidler blends traditional cosmetic and reconstructive techniques to achieve natural results. As a Haute Beauty expert, she will educate readers on the various aspects of one of her areas of specialty in particular – aesthetic breast surgery. She will discuss the latest advancements in products and technology, as well as provide personal point of view and advice that she gives patients who are considering options for breast surgery.
Knowing the crucial boost aesthetic treatments can render on patients' self-esteem, Dr. Zeidler is among the few plastic surgeons to not only utilize the latest surgical techniques in reconstructive and aesthetic surgery, but leads various clinical trials to help medical companies perfect technologies before bringing them to market. As clinical investigator for the breakthrough breast reconstruction technology AeroForm, which allows patients to expand their own breast tissue via a wire-less controller post-mastectomy, Dr. Zeidler was featured on the highly acclaimed show The Doctors to educate audiences on this new method in which she was the first U.S. surgeon to perform. Beyond reconstructive surgery, a number of other medical aesthetics companies have also turned to Dr. Zeidler as the industry's "go to" surgeon to advise and lead various clinical trials for cosmetic procedures.
For Dr. Zeidler, plastic surgery carries a personal cause. As a physician whose family is affected by the breast cancer gene, she is dedicated to offering her breast cancer patients the same results she expects in cosmetic surgery. She continues to partner with companies that bring advances to the field in order to continually deliver the best possible results in both reconstructive and aesthetic breast surgery.
About Dr. Zeidler:
Dr. Zeidler received her Bachelor of Arts degree in biology from Rice University in Houston, Texas. She earned her Doctor of Medicine Degree at University of California, San Francisco, one of the top five medical schools in the country. Dr. Zeidler graduated at the top 5% of her class, earning her a membership into the prestigious Alpha Omega Alpha honor society. She continued her career at UCSF by completing her residencies in general surgery and plastic and reconstructive surgery. She also completed a postdoctoral research fellowship in UCSF and studied stem cells and their effects on wound healing, a study which earned a grant from the National Institute for Health (NIH). During her time there, Dr. Zeidler was awarded with UCSF's Julius R. Krevan's award for her outstanding clinical care of her patients. She later underwent further training for breast reconstruction techniques with an additional advanced microsurgical clinical instructorship and fellowship at Stanford University Medical Center. In 2012, she was honored with the California Patients' Choice Award.
Practicing at Aesthetx, Dr. Zeidler is a member of multiple renowned professional societies, like the American Society of Plastic Surgeons, the American Society for Reconstructive Microsurgery, the California Society of Plastic Surgeons, the American College of Surgeons, the California Medical Society, the Santa Clara County Medical Association and the South Bay Chapter of the American Medical Women's Association. She is also very active when it comes to charitable work. Dr. Zeidler serves on the board of directors of Cancer CAREpoint.
About Haute Beauty:
Haute Beauty is affiliated with luxury lifestyle publication Haute Living. A section of Haute Living magazine, Haute Beauty covers the latest advancements in beauty and wellness and provides readers with expert advice in the most innovative aesthetic and reconstructive treatments through its network of acclaimed surgeons.