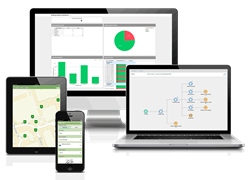 "The goal is to help teams improve compliance, safety and decision making." -Sze Wong, CEO
Herndon, Virginia (PRWEB) January 09, 2017
Announced January 9, iFormBuilder is now exclusively part of Zerion's integrated suite of data-driven solutions. iFormBuilder will join the Zerion suite of mobile workflow offerings which include Dataflow Automation and Custom Reports.
"The goal is to help teams improve compliance, safety, and decision making," explained Sze Wong, CEO of Zerion. "As such, it's most beneficial to our customers that iFormBuilder is offered alongside other powerful tools under the Zerion name, creating an entire suite of data management products with limitless possibilities."
Capabilities of the Zerion suite include:

Advanced Form Building: Build robust business applications that go far beyond typical online forms.
Workflow: Automate admin tasks related to compliance, safety and decision making.
Visualizations: Make fast and informed decisions based on digestible graphs and charts.
Secure Database Options: Zerion's unmatched level of security protects all user data; it is the safest mobile workflow software on the market.
A Powerful API: Not all companies work the same; a robust API enables enterprise clients to leverage the power of their existing systems.
Support: Access to the Zerion team to maximize the value of the technology.
Existing iFormBuilder subscribers will not see any disruption or change in their service.
Those with questions are encouraged to contact Zerion by visiting http://www.zerionsoftware.com/contact-us.
Zerion is a mobile workflow solutions company. Our solutions include data collection, data processing, data management, data storage and data visualization, all leading to better decision making and improved safety and compliance standards. We're based around the belief that Good Data is the ultimate indicator of successful teams, allowing them to focus on what matters most. Zerion's clients represent various industries, including Agriculture, Healthcare, Engineering, NGO and the Government/Public Sector. For a full range of products and services, visit http://www.zerionsoftware.com/.