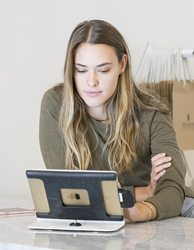 Cincinnati, OH (PRWEB) June 05, 2017
What are the most valuable rewards credit cards for today's consumers? With more than 500 cards to choose from, financial destination website Growella.com set out to find out.
To find the best value in today's reward credit cards, Growella built an objective, proprietary algorithm based on the rewards offered by each credit card; the spending patterns of a typical Millennial consumer; and, a realistic timeline for how long a consumer might keep a card in their wallet.
Using data from credit card issuers, the U.S. Census Bureau, and the Bureau of Labor Statistics, Growella performed an objective analysis to find the credit cards carrying the highest cardholder value.
"Millennials can pick from hundreds of rewards credit cards," says Growella founder Dan Green. "Several cards stand out, though, for the size of their cash-back rewards and for the number of complimentary plane tickets a cardholder can get for domestic and international travel."
Growella considered the average spend of a person in their 20s and early 30s by category, the rewards available from each credit card in the study, the whatever fees are associated with the card. The study looked at the 1-year value of a card to consumers; and the value of three years.
"For each rewards credit card," Green says, "we wanted to ask: 'How much can consumers get?'"
The 10 most valuable rewards credit cards are:
1. Barclaycard Arrival Plus™ World Elite MasterCard®
2. Chase Sapphire Reserve
3. Capital One Venture® Rewards
4. American Express Blue Cash Preferred® Card
5. Citi ThankYou® Premier Card
6. Chase Sapphire Preferred® credit card
7. PNC Premier Traveler® Visa Signature® credit card
8. Discover it® Miles card
9. Citi® Double cash card
10. Discover it® card
Growella determined the value of a rewards credit card study by starting with the average spend for a person aged 25-34 based on government data, then applying that spending pattern to the rewards structures available via credit card issuers.
The study accounts for bonus rewards including rotating cash-back offers and sign-up offers, travel benefits such as free luggage on airlines and hotel room upgrades, and annual fees required, where applicable.
Read the complete list of Best Cities For Millennials at https://growella.com/credit-cards/rewards-credit-cards-best-value-overall/.
About Growella
Growella is a financial education website for Millennials and members of the current generation. Using articles, video, and interactive storytelling to share ideas, Growella helps its audience do more with their lives and get more from their money. Growella is headquartered in Cincinnati, Ohio; and is a member of #StartupCincy.