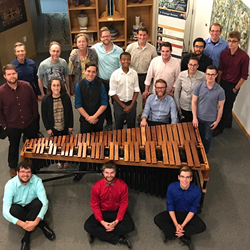 'We were beaming all day!' - Matthew Coley, Founder, Heartland Marimba Festival
Arcata, CA (PRWEB) August 31, 2017
In June, Katarzyna Mycka's International Marimba Academy concluded a spectacular event in Arcata. Following this, from Matthew Coley putting on the Heartland Marimba Festival and Tim Palmer, Jason Huxtable with guest teacher Lynn Vartan putting on the World Percussion Group European tour, our artists are fostering the next generation of musicians.
World Percussion Group
World Percussion Group (WPG), the brainchild of Marimba One ensemble artists Tim Palmer and Jason Huxtable (Maraca2) is a group of percussion students who were selected to tour around Europe from over 100 applicants. The resulting 2017 tour group involved musicians from Taiwan, USA, UK, Hong Kong, Germany, Slovenia, Japan and Mexico.
The musicians met in Birmingham, UK for three days of intense rehearsal and then traveled across Europe via cruise ship. For two weeks the group sailed from city to city playing gigs and delivering presentations, clinics and masterclasses.
In down time, percussionists explored the streets of foreign cities, relaxed and played games on board the P&O Britannia (even if the pool balls did sometimes roll across the table when the seas were choppy).
The tour included residencies at seven leading Conservatories around Europe including Leeds College of Music, Royal Northern College of Music in Manchester, Birmingham Conservatoire, Sibelius Academy of Music, Estonian Academy of Music, Royal Academy of Music in Denmark and the Norwegian Academy of Music.
WPG will return in 2019 so stay tuned on http://www.worldpercussiongroup.com for details on auditions.
WPG founders Tim Palmer and Jason Huxtable (Maraca2) are also Classic FM artists. They are thrilled to accept an invitation to perform a brand new Concerto written by Joseph Pereira. The duo will present 4 performances for this new work for Solo Timpani and Maraca2 alongside the Los Angeles Philharmonic under the baton of Gustavo Dudamel.
Heartland Marimba Festival
Marimba One artist Matthew Coley has continued the Heartland Marimba Festival, a year-round opportunity to tour and play marimba and vibraphone at various events along with his fellow musicians, the Marimba One ensemble artists Heartland Marimba Quartet. The artists served as teachers and performers this summer when the Heartland Marimba Academy took place for the fourth time.
The academy was hosted by the University of Wisconsin-Stevens Point (Brian Baldauff, host). Eleven students from all around the country had the opportunity to take private and chamber lessons, be recorded on a professional CD, and attend lectures on a variety of career-related topics.
Favorite memories include the final concert when Matthew performed a concerto with Gordon Stout and Heartland students as well as when the Heartland Marimba Quartet brought students up to play with them. This year they did a brand new premiere of an arrangement of Holst's Mars for marimba orchestra.
Matthew's birthday fell on the last day of the academy. From students presenting him with a signed poster they created to running into super fans at the local diner, Matthew said that he was "beaming all day." Students and faculty alike are already looking forward to the next year of Heartland.
Get the latest and greatest about HM here: https://tinyletter.com/HeartlandMarimbaFestival