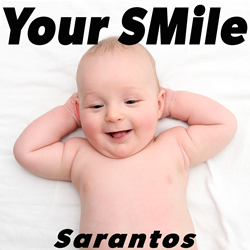 My smile can become your smile!
Park Ridge, IL (PRWEB) January 03, 2017
Sarantos - It's 2017 So Sarantos Starts Releasing New Pop Music Songs Every Month All Over Again With A Fun Song "Your SMile."
The New Year just hit. Every Jan 1st, the clock starts over and New Year's resolutions are a common occurrence around the world. For Sarantos, it all beings anew as the cycle continues. In 2017, Sarantos will embark on a fresh new journey continuing a lifelong ambition to release a new song, music video and book chapter every single month.
This new CD will continue to highlight an evolution to Sarantos passion. The 1st song is called Your SMile and Sarantos surprises fans consistently hitting an F major note vocally. The fun, happy song is about a smile and how it effortlessly warms one's heart. The guitar takes center stage with a playful melody as the lyrics highlight the adventure.
"This fun pop song is about something simple - a smile," says Sarantos. "Although the song can be interpreted as anyone's smile, young or old, the main intent was to focus on your significant other's smile and the effect it has on you! Think about the worse moments in your life. Chances are the simple gesture of a smile, could cut through the pain and melt it away instantly, bringing a sense of calm and control over even the most desperate of situations. A smile has many benefits, doesn't it? And, a smile is so amazing, especially because it's so easy to do. I was taught at a young age to smile as much as I can, not only because it would make me feel happy and content, but also because it could potentially brighten up a stranger's day when they needed it the most. My smile can become your smile!"
Sarantos and fans chose this charity for this song - Operation Smile who believes that every child suffering from cleft lip or cleft palate deserves exceptional surgical care. They should be able to smile confidently too.
Sarantos' unique sound has been best described by industry insiders as an "emotionally powerful vocal style masterfully united with music that is a fusion of classic '80s rock blended with modern soft rock and pop music."
Since 2014, Sarantos has won over 36 awards with Akademia LA Music and Beat 100, while also being nominated for the International Music & Entertainment Awards and the Hollywood Songwriting Awards. Even without ever using a professional music studio, label, ad agency or radio promoters, "Dreamer" & "What If I Never See You Again" have spent many months in the top 200 on the majors list in the US for radio airplay according to the Digital Radio Tracker Top 200 charts. On the independent charts, Sarantos has hit the top 10 twice.
*Because Sarantos wants music shared throughout the world, fans can always find downloadable songs, lyric sheets, videos and books on the website. Fans can sign up for the email list to get the inside scoop first and exclusive content available nowhere else.
Facebook: http://www.facebook.com/Sarantosmelogia
Spotify: play.spotify.com/artist/0fSzbfDxSHL10T1ryPsRLQ