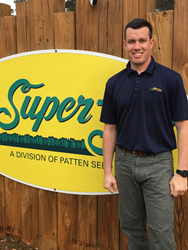 Working at Super-Sod is exciting because everyone is so outside-the-box in the way they do business and the way they run this company.
Raleigh, NC (PRWEB) February 28, 2017
Super-Sod of the Triangle recently welcomed Kevin Farrell to their family of turfgrass experts as an outside sales representative for customers in the area of Raleigh and Cary, North Carolina.
Originally from Dallas, Texas, Farrell attended the University of Texas at San Antonio and received his bachelor's degree in public relations and sports journalism. Armed with a background in hotel sales at Gaylord Texan, Farrell relocated to North Carolina and soon joined the Super-Sod sales team.
He quickly became an expert on all Super-Sod turfgrass varieties and embraced the company culture.
"Working at Super-Sod is exciting because everyone is so outside-the-box with the way they do business and the way they run this company," Farrell said. "You feel like you're part of a family."
Farrell's position at Super-Sod allows him to connect with customers in the Triangle area and promote sales for both the Raleigh and Cary Super-Sod stores.
"Kevin's goal in bringing in new business is not only to sell a customer some grass. He genuinely enjoys the relationship-building aspect of the process and his customers love that about him," said Brad Hubinek, manager at Super-Sod of the Triangle.
Outside the Triangle, Farrell also serves as part of a special team that promotes drought-tolerant TifTuf Bermudagrass at home builder, landscape architect and athletic field conferences across the Southeast.
"It feels good to sell a product that you know is absolutely fantastic," Farrell said. "I love that the quality of our product is what we put a lot of pride in. That's something I can get behind and identify with because that's how I live my life as well."
When he is not talking turfgrass, Farrell spends his time woodworking, supporting his favorite NBA team, the Dallas Mavericks, and enjoying North Carolina's outdoor diversity — from beaches to mountains. Kevin and his wife Hallie are expecting their first child in June.
Super-Sod, a division of Patten Seed Company, is a family run business that employs experts in turf and horticulture. Patten Seed Company began in 1893 in Lakeland, Georgia, as a general store, providing seed for customers. Since then, Patten Seed Company has brought innovation to the turfgrass industry through production of different seed and sod varieties. Super-Sod was formed in 1980 to market sod to expanding urban markets. Along with turfgrass sod and seed, the company offers BigYellowBags of Soil3 organic compost for improving all soils from vegetable gardens to lawns. Super-Sod continuously develops new garden products; fosters gardening and landscaping; and seeks improvement in farming practices, technology, environmental stewardship and employee knowledge.
Super-Sod of the Triangle has two locations, the first at the North Carolina State Farmers Market in Raleigh and the second in Cary on Highway 55. Customers in the Triangle area can call 919-836-0492 to reach either store.