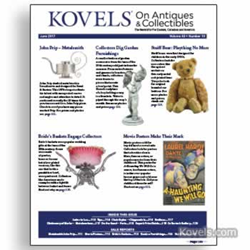 Cleveland, Ohio (PRWEB) June 29, 2017
Antique brides' baskets auctioned in Kansas are featured in a sale report in Kovels on Antiques & Collectibles June 2017 newsletter. Favored as gifts for Victorian weddings, brides' baskets paired art glass bowls with ornate silver-plated stands. See colorful brides' baskets with birds, blossoms and cherubs that sold for prices from a few hundred to a few thousand dollars. Movie posters that represented a variety of film genres spanning decades sold at a recent auction in Chicago. Collectors love posters that advertise classic films and famous actors. Kovels' June issue pictures examples from Buck Rogers to the Beatles that sold from $75 to $2,500. And silver pieces by metalsmith John Prip were sold at a Chicago auction. His name is not well-known but his midcentury work is bringing high prices. See the Prip teapot that sold for over $22,000 as well as boxes, a candlestick and jewelry in his signature smooth and curvy shapes in Kovels' latest issue.
Steiff bears are known for their soft colored mohair and distinctive button-in-ear branding. Steiff and other teddy bears sold in New Jersey, where the top price of $39,000 was paid for a 1920s Steiff Teddy Clown bear. Kovels' June newsletter has pictures and prices of some of the teddy bears along with tips on identifying bears made by Steiff. And a small but quality selection of garden accessories auctioned in New Orleans. Kovels' June issue pictures pieces from fountains to lawn ornaments along with their prices.
Kim Kovel goes "on the road" to Paris to visit museums and explore Parisian flea markets. The popular illustrated Collector's Gallery answers readers' questions about an old Windsor chair, a mammy walking toy, a ruby glass seaside souvenir and a Bunnykins tea set. June's Dictionary of Marks lists Arts and Crafts metalworkers. And more than 70 antiques and collectibles are listed in the Buyer's Price Guide.
Kovels on Antiques & Collectibles is available as a print subscription, or as a digital version that is part of the Kovels.com Premium subscription.
Terry Kovel is America's foremost authority on antiques and collectibles. She is the well-known columnist and author of more than 100 books on antiques and collecting. Kovels' Antiques & Collectibles Price Guide, 2017 edition, is currently available at Kovelsonlinestore.com and local bookstores. Terry Kovel will discuss antiques and collectibles topics with accredited media. Photographs are available. Contact pr(at)kovels(dot)com.
About Kovels.com
Kovels.com, created by Terry Kovel and her daughter, Kim Kovel, provides collectors and researchers with up-to-date and accurate information on antiques and collectibles. The company was founded in 1953 by Terry Kovel and her late husband, Ralph. Since then, the Kovels have written some of America's most popular books and articles about antiques, including the best-selling Kovels' Antiques and Collectibles Price Guide 2017. The website, Kovels.com, online since 1998, offers more than a million free prices, and includes a free weekly email, "Kovels Komments." It gives readers a bird's-eye view of the market through the latest news, auction reports, a Marks Dictionary, readers' questions and answers and much more.
Contact Information:
Liz Lillis
216.752.2252
Pr(at)kovels(dot)com