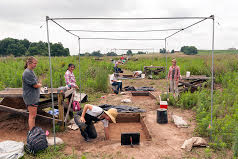 "Where History Meets Science."
Kampsville, Illinois (PRWEB) April 18, 2017
At the Center for American Archeology, older students involved in field school programs will participate in real archaeological research alongside professional archaeologists at one of the premiere archaeological centers in the country. School groups will engage in Past Lifeways, an experiential, STEM-based program for classes of 2nd to 12th grade students which facilitates an exploration of the environment and daily life of past peoples through the lens of archaeology and related disciplines.
For more than six decades, students and scholars have come to the remote village of Kampsville, Illinois in association with programs through CAA. Many of these individuals were students ready to explore the possibilities of future careers in archaeology or biological anthropology. Many were younger students who loved learning, loved history and science, and loved learning history and science. Located just one and a half hours from St. Louis, Missouri, Kampsville's rich archaeological history provides a great place to explore the wonders of human history.
In the High School Field School, Adult Field School, and Arizona State University Kampsville Field School programs, participants will learn how to do fieldwork, laboratory work, identify artifacts, and more as they help the CAA summer field crew investigate the Golden Eagle site, the only known prehistoric site with an enclosing embankment in the Illinois River Valley. Each of these great experiential programs provides great education, great experiences, and great opportunities to make friendships that last a lifetime.
"The Center for American Archeology's High School Field School is an incredible experience. You build friendships, work in the field, and tour the nearby Cahokia Mounds. It's an incredible program that broadens your knowledge of the archeology work force." – Helen Wesner
Registrations are open now. For more information on CAA or to sign up for a program, go to http://www.caa-archeology.org
The Center for American Archeology: Where History Meets Science!
About The Center for American Archeology: The Center for American Archeology is a 501(c)(3) not-for-profit located in Kampsville, IL. CAA pursues a mission of education, research, and public service in archaeology. Its purpose is to discover and disseminate the unwritten story of earlier Americans' lifeways, accomplishments, and changing natural environment. The Center fulfills this mission by supporting integrated programs of archaeological investigation, educational outreach, and cultural stewardship.