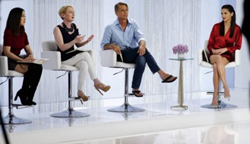 "American Beauty Star shows us that splendor can be everywhere: in the contoured curve of a cheek, in the sensuous swirl of a lock of hair…and in the sinuous scroll of a chair." - Christopher Guy Harrison, founder and designer of Christopher Guy
LOS ANGELES (PRWEB) September 27, 2017
Luxury furnishings brand Christopher Guy (CG) was thrilled to be appointed to provide decorative and set furniture for American Beauty Star, the eagerly awaited contest program headlining the beauty industry, which premiered on the Lifetime channel on September 21, 2017. Supermodel and executive producer, Adriana Lima hosts the series, also featuring celebrated make-up artist Sir John, world-renowned photographer Russell James, and former Vogue beauty director Sarah Brown.
"It's incredibly exciting to support such a creative group of talented artists, and to be amongst so much artistic glamour," said Christopher Guy Harrison, founder and designer of Christopher Guy. "American Beauty Star shows us that splendor can be everywhere: in the contoured curve of a cheek, in the sensuous swirl of a lock of hair…and in the sinuous scroll of a chair."
CG pieces starring in the program include:

Gibson: an understated cocktail/martini table with huge visual appeal.
Le Meurice Chaise: a chaise lounge, with Christopher's signature "Chris-Cross" legs and mahogany scrolled frame;
Cala Gauche Sofa: a sumptuous avant-garde sofa that echoes the sweeping curve of a cala lily;
La Croisette Chair: the Riviera allure forms the DNA of this unique piece, with its stunning scalloped back, beautiful silhouette and Christopher's patented "Chris-Cross" legs.
American Beauty Star follows in the steps of the hugely successful hit, Project Runway, and airs at 10:30pm ET/PT on Thursdays. Throughout the series, stylists and salon professionals will compete in different challenges devised by red carpet and runway show celebrity guests that include Camilla Alves, Christie Brinkley and Ta'Rhonda Jones. Only one contestant will take home the ultimate accolade, the inaugural title of "American Beauty Star."
For photos of the furnishings provided for the program, or for more information, please contact Birgit C. Müller, Brand Ambassador for Christopher Guy at birgit.muller(at)christopherguy(dot).com.
About Christopher Guy:
Christopher Guy Harrison, an award-winning internationally renowned designer, is the founder and CEO of luxury furnishings brand, Christopher Guy. His creations were brought to life in the mid-90s when he set out to create the world's most fabulous and unique mirror frame collection under the name Harrison & Gil. He began building his workshops after acquiring a plot of land in Java, where he sourced the best craftsmanship from local artisans. Today, these workshops cover more than one million square feet, and Christopher Guy has evolved to creating a complete luxury lifestyle that offers timeless values.
With presence in over 42 cities including showrooms throughout North America, Europe, Asia, and the Middle East, Christopher Guy offers a fresh approach to design, transcending modern, traditional, and cultural boundaries. Christopher Guy creations are selected by leading designers and retailers, from the grandest hotels and most spectacular resorts, to the world's finest residences. The brand's stylish appeal and often-elaborate aesthetics have led to cameo roles in many iconic movie productions such as Casino Royale (007), Ocean's Thirteen, The Hangover, The Devil Wears Prada, Charlie's Angels 2, and The Interview.
Whether as statement pieces in luxurious hotels or on Hollywood film sets, Christopher Guy's timeless and elegant designs are widely acclaimed as the world's most fabulous decorative furnishings.
For more information, please visit http://www.christopherguy.com.