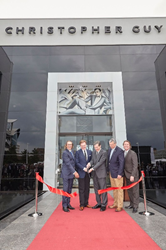 "High Point is a pivotal global furniture market with widespread recognition as an international buyers' destination. It is an honor for us to be able to add such a distinct building to High Point's skyline." - Christopher Guy Harrison, Christopher Guy
High Point, NC (PRWEB) April 26, 2017
Luxury lifestyle brand Christopher Guy (CG) hosted a series of events during High Point Market to commemorate its decennial anniversary. The pinnacle event was the unveiling of the new CG showroom in downtown High Point, held on Friday, April 21.
North Carolina Governor Roy Cooper and CG founder Christopher Guy Harrison cut the ribbon to inaugurate the brand's 20,000 square foot showroom. High Point Councilor Jay Wagner, IMC CEO Bob Maricich, and CG's Head of Global Visuals John Spurlock joined the pair during the ribbon cutting ceremony to mark the celebration with a champagne toast. The event was attended by notable dignitaries from High Point's Market Authority, High Point Visitors and Convention Bureau, High Point University and High Point Economic Development Corporation.
After the ceremony, the Governor and Mr. Harrison toured the two-story showroom, viewing many of CG's new signature designs, including over 50 just-released pieces to debut at High Point Spring Market. The Governor found the showroom "impressive."
Governor Cooper stated, "I am honored to be here at this ribbon cutting for this amazing building. This is the place to be for furniture and furniture manufacturing. High Point is North Carolina's window to the world of furniture."
"This building is a realization of a dream of having our own showroom in the epicenter of the world's furniture capital," said Mr. Harrison. "Thanks to our tremendous partnership with International Market Centers, our dreams have become a reality."
Councilman Wagner said, "I wish to congratulate Christopher Guy for the 10th anniversary and salute you for innovation. We are proud that you chose to have this jewel of a showroom in High Point and we are proud to be here today."
"High Point is a pivotal global furniture market with widespread recognition as an international buyers' destination," continued Mr. Harrison. "It is an honor for us to be able to add such a distinct building to High Point's skyline."
The Governor concluded, "This grand opening of this free standing showroom shows that we need to keep pushing forward, creating those jobs and making sure that the world knows that this is the place to be for the best furniture in the world." He then raised his champagne flute and said to Mr. Harrison, "Thank you for letting me be a part of this."
Photos and a drone-captured video of the event are available for media usage. The video can be accessed at https://tinyurl.com/CGHP2017-Video. For more information or for links to images, please contact Birgit C Müller at birgit.muller(at)christopherguy(dot)com.
###