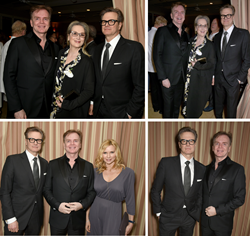 West Hollywood, Calif. (PRWEB) March 01, 2017
Global luxury lifestyle brand Christopher Guy (CG) imparted its trademark of sophisticated and elegant design for one of the most exclusive pre-Oscar parties: the Green Carpet Challenge Dinner, hosted by Colin and Livia Firth, at the historic Sunset Towers Hotel in Hollywood.
The brand's founder, Christopher Guy Harrison, dined with many of Hollywood's elite--including Colin Firth, Meryl Streep, Emma Stone and others at the lavish dinner party (see attached photo. Photo credit: Dave M. Bennett).
The Green Carpet Challenge is an initiative founded by Livia Firth, which focuses on creating sustainable excellence in the design community by addressing social and environmental issues, such as ensuring a safe and healthy workplace and community, conserving endangered species, and managing precious resources.
Some of the CG brand's most iconic pieces were featured at the private event, including Sofia chaises, Ophelia occasional chairs, Portica vases, and Hestia coffee tables.
For more information about CG, please visit http://www.christopherguy.com.