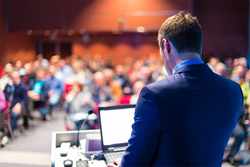 More than ever before, associations will have to find ways to make the conference more accessible to new audiences.
Madison, WI (PRWEB) January 12, 2017
Shifting membership demographics and the perceived ease of access to information and knowledge through the internet have presented increased challenges to associations. Among them, how to maintain a position of relevance and thought-leadership, while attracting new members. Which makes expanding the reach of their educational content an important initiative for associations. Yet, in a 2017 State of the Conference Industry Report published by Omnipress, only 55% of association conference planners surveyed indicate they currently re-use their conference content for any purpose.
Omnipress, provider of print and digital content solutions for associations and other organizations, conducted an online survey of 116 association professionals, a majority of whom are primarily responsible for conference planning, to understand the current state of conference content, predictions for 2017, challenges, and how well organizations are positioned for the future.
"We are fielding more and more questions from associations on how to break down existing silos and build a more effective content ecosystem that will benefit the entire organization," says Omnipress' General Manager, Jonny Popp. "It's more than simply distributing final handouts and speaker presentations to attendees after an event. A conference is a huge investment of time and resources. Our customers are looking for solutions that will extend its reach, shelf life and value for new and existing members." Adds Popp, "Not to mention, compete for the attention of Millennials and Generation Z."
The survey was written and administered by Omnipress. Educational content developed specifically for conferences was the focus of the survey; other aspects of the conference planning process (venue, food and beverage, program delivery, registration and technology, etc.) were not included in this survey.
"There is an interesting dichotomy at play right now," states Tracy Grzybowski, Omnipress' Director of Marketing. "As one of the largest sources of non-dues revenue, it's no surprise that the number one stated goal for the 2017 conference is to increase attendance. Yet, 78% of associations are reporting flat-to-modest growth in membership." Continues Grzybowski, "This means that they will have to find ways to make the conference more visible and accessible to new attendees, including current non-members. And one of the most effective ways to do this is through a well-executed content marketing strategy."
Download a free copy of the full report.
About Omnipress
Omnipress makes it easy for associations to collect, produce, and distribute print and digital content for their conferences, continuing education programs, and association publications.
http://www.omnipress.com