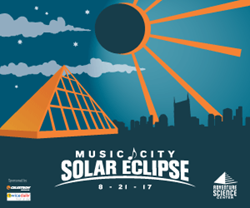 Adventure Science Center will celebrate science and the eclipse Nashville-style.
Nashville, Tennessee (PRWEB) June 02, 2017
In honor of this summer's greatly anticipated total solar eclipse and Nashville's unique role as the largest city within the eclipse's path of totality, Adventure Science Center will celebrate science Nashville-style, with the Music City Solar Eclipse Festival & Viewing Party on August 19, 20, 21. The celebration will feature a giant science, technology, and music festival; an eclipse viewing extravaganza; and the opening of the science center's new virtual reality installation, allowing indoor eclipse festival ticket-holders to be the first to try the new VR experience.
"Not only is this the first total solar eclipse to sweep across the country in over a century, it's the first one Nashville's seen in more than 500 years," said Steve Hinkley, the new President and CEO of Adventure Science Center. Steve will officially begin leading the science center during the first week of July. "I am thrilled to be joining Adventure Science Center at such an exciting time. I'm also proud of the organization's efforts to inform and engage Nashville's community around the eclipse."
For over a year, Adventure Science Center (ASC) has been working hard to raise eclipse awareness, hosting monthly eclipse stakeholder meetings for local and regional community, business, and government leaders. The science center offers public monthly eclipse activity days, a special eclipse guest speaker series, and an original, fulldome eclipse production shown daily in Sudekum Planetarium. Along with public eclipse programming, the science center provides eclipse professional development for teachers and eclipse school programs for students.
Adventure Science Center's eclipse activities will culminate in their Music City Solar Eclipse Festival and Viewing Party on August 19, 20, and 21. The city is closing down the streets around the science center to allow ASC to fill them with over 100 different hands-on, science, technology, music, and art booths from Nashville and across the country. The outdoor portion of the festival will be organized into a universe of themed areas including Sci-Fi Science (real science inspired by science fiction plus all things sci-fi), Tech of Tomorrow (futuristic gadgets, gizmos, and giant machines), BioWorld (biotechnology, nanotech, and crazy ferrofluids), Music City Science (science of sound, instrument-making, music-making, and music recording), and Journey to Space (real astronauts, rockets, the Mars Mission, and all things outer space).
The outdoor festival will also feature main stage live music performances emceed by Nashville's own Paul Heggen, Meteorologist for WSMV Channel 4; food trucks; games; contests; and prizes.
Festival goers who opt to purchase a VIP Indoor Pass will receive limited edition Music City Solar Eclipse glasses, t-shirts for kids, tickets to the planetarium show, ECLIPSE: The Sun Revealed, and a unique opportunity to be the first to experience the science center's new virtual reality installation, developed in partnership with local creative media designers, PK Pictures. The VR experience, developed in partnership with local creative media designers, PK Pictures, opens August 19th and will be available only to indoor ticket-holders on August 19, 20, and 21. Other special indoor activities include a full lineup of special eclipse speakers and demonstrations; over 170 hands-on, science exhibits; the Nature Unleashed Exhibit; and 3D printing classes in the Innovation Incubator Lab.
"The VR Installation exemplifies the type of new and dynamic experiences the science center is bringing to Nashville. We're thrilled to be able to unveil it at our eclipse celebration," said Tiffany Farmer, PhD., Director of Education and Community Development at ASC. Over the past 8 months, Adventure Science Center has undergone a vast revitalization effort, including equipment upgrades, a new Innovation Incubator Lab, a new outdoor Galactic Garden and amphitheatre, and over $150,000 in new permanent exhibits.
For the Eclipse Viewing Party on August 21, the outdoor festival will transform into a large viewing area with a giant screen broadcasting NASA's live footage of the eclipse from space; live music performances on the main stage; special speakers; live science demonstrations; solar telescope viewing stations provided by Celestron®; science-themed games, contests, and prizes; food trucks; and other fun activities. Music City Eclipse Media Sponsor, WSMV Channel 4, will broadcast the event live from the science center throughout the day.
Tickets for the indoor festival are now on sale at http://www.adventuresci.org/eclipse.
Click here to download pictures and graphics»
DATES & TIMES:
Saturday, August 19......9:00 a.m. to 8:00 p.m.
Sunday, August 20........9:00 a.m. to 5:00 p.m.
Monday, August 21.......9:00 a.m. to 5:00 p.m.
Music City Solar Eclipse Festival & Viewing Party is sponsored by Celestron® and Celestron® and media sponsor WSMV Channel 4.
Please note: General Admission tickets to Adventure Science Center will not be available August 19, 20 & 21. People wishing to visit the Center or the Sudekum Planetarium will need to purchase indoor festival tickets.
Outdoor Festival Cost: No Cost
Indoor Festival Cost (VIP Eclipse Pass): Adults/Teens (Age 13+): $29 
Youth (Age 2-12): $49
Children (Under 2): no cost
Groups of 4 or more enjoy 35% off
# # #
About Adventure Science Center
For more than 70 years, Adventure Science Center has been bringing science to life for students, teachers and families in Middle Tennessee and across the U.S.  The Science Center offers engaging learning experiences and science fun through hands-on, interactive exhibits; innovative programs; and fulldome productions in state-of-the-art Sudekum Planetarium. Adventure Science Center strives to open every mind to the wonders of science and technology, fostering a better understanding of ourselves and the world around us.
 
Adventure Science Center is located at 800 Fort Negley Blvd. in Nashville.
 
For more information about the event, visit http://www.adventuresci.org/eclipse or call Alexis McCoy, Director of Marketing and Communications, at (615) 669-5094.