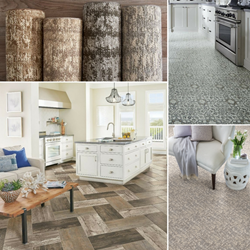 Manchester, NH (PRWEB) January 02, 2017
Carpet One Floor & Home collaborated with top industry experts and interior designers to compile and organize 2017's top flooring trends by room. Though the preferred flooring type varies by space, the overarching trend in the coming year is the continued movement toward natural styles. Products that evoke the look of naturally derived fibers, while simultaneously maintaining a sense of luxury continue to be top sellers. This trend supports the demand by homeowners to create spaces within their homes that are not just visually appealing, but nurture a sense of well-being and comfort.
Living
For the main living area, hardwood will continue to reign king in 2017. Expect to see styles with increasing color variation, along with the continued popularity of reclaimed and re-purposed looks. Additionally, there will be a growing trend toward longer, wider planks, along with the use of various widths from plank-to-plank. For color, the warm gray spectrum, spanning both light and dark values, will continue to drive volume in flooring and home furnishing alike, as will tone-on-tone colors that showcase the natural characteristics respective of the type of wood.
Kitchen
2017 design trends show that the kitchen is being transformed into a thoughtfully designed, open-concept living space. This transformation requires flooring that bears more resemblance to adjacent living areas. This has stimulated and will continue to stimulate the use of hardwood within the kitchen. Engineered hardwood will remain a top choice; however, wood-look luxury vinyl and laminate flooring options give homeowners beautiful wood replications with the additional benefits of durability, water and stain resistance, and comfort. Another flooring category that is following the wood-look trend is tile. The once top choice of flooring in kitchens is making a comeback with beautiful wood prints and the ability of unique installation patterns.
Bed
For the bedroom, carpet still remains a staple, whether it is wall-to-wall or a large area rug over hard surface flooring. In 2017, carpet styles will combine organic textural qualities with luxurious, lustrous accents. This trending construction falls in line with a general movement in home décor toward materials and textiles that are derived or which evoke a sense of organic and natural elements. For example, advances in tufting technologies are allowing carpet designs to mimic the look of natural sisal, while maintaining a soft, velvety feel. For color, expect to see increasing use of striations to, again, evoke the look of natural woods and stone, combining beiges, golds, grays and taupe fibers.
Bath
Ceramic and porcelain tile has long been a top choice for bathroom spaces. In 2017, tile that mimics the look of wood or stone will continue to build momentum. Weathered wood and luxe marble looks will continue to gain popularity, as will the use of mosaic style tiling. Additionally, the use of engineered stone and luxury vinyl to mimic the trending styles within the wood and stone categories will also be prominent throughout 2017.
To view examples of these trends, please visit Carpet One Floor & Home's Inspiration Gallery. For more home design trends, the 2017 Trend Issue of Beautiful Design Made Simple is available for download and online reading now.