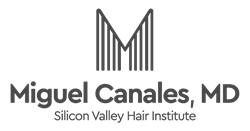 It's easy for a patient to get confused over what FUE and FUT mean as hair restoration techniques.
San Francisco, CA (PRWEB) February 27, 2017
Silicon Valley Hair Institute, a professional Bay Area center for hair transplantation therapy, is proud to announce a new informational post on robotic hair transplantation. San Francisco residents may be confused over two popular hair therapy procedures. Follicular Unit Extraction (FUE) hair transplant and Follicular Unit Transplantation (FUT) can sound similar. Either treatment can be used to provide a Bay Area patient with thicker hair, but the most important step is to come in for a professional consultation, as only a hair restoration specialist can evaluate and make a recommendation as to the best procedure.
"It's easy for a patient to get confused over what FUE and FUT mean as hair restoration techniques," explained Miguel Canales, founder of Silicon Valley Hair Institute. "Medical acronyms and tech speak can throw people off a bit. Both treatments can help men and women dealing with hair loss. Our new blog post easily explains the difference."
To view the new blog post please go to http://siliconvalleyhairinstitute.com/confused-fue-vs-fut-hair-transplant-bay-area-dont/. Information noting the difference between FUE hair transplant treatment and FUT treatment can be reviewed. San Francisco locals researching hair loss therapy can research several other treatments as well, and reach out to hair transplant surgeon, Dr. Canales, for a consultation.
Understanding FUE Hair Transplant Treatments ASAP in the Bay Area
Common acronyms used in daily life can be easy for the general population to decipher. Bay Area residents may be used to seeing the acronym "ASAP" and understand it means "As Soon as Possible." Simple abbreviations for texting or filling out forms may also be easy to decode. Acronyms for specific industries, such as the medical profession could be more difficult to translate. If a San Francisco local is considering FUE hair transplant treatment, it might be confused with FUT (Follicular Unit Transplantation). Both can help balding scalps yet only one of the two hair loss treatments may be a better choice for an individual.
Silicon Valley Hair Institute has recently posted a new blog noting the difference between FUE hair transplant services and FUT. Bay Area residents searching for the best individual hair loss treatment can have many choices. The new post can help patients understand the important differences between an FUT or FUE hair transplant procedure. Depending on the hair loss problem and other factors specific to a Bay Area resident, either FUE or FUT may be the better choice. If a woman or man has been experiencing thinning hair, the problem may be crucial to the individual. A top FUE hair transplant service can be found ASAP in San Francisco.
About Silicon Valley Hair Institute
Silicon Valley Hair Institute, under the leadership of top-rated California hair transplant surgeon Miguel Canales MD, is one of the best facilities offering San Francisco Bay Area hair transplants. Dr. Canales provides the full range of advanced hair transplant and hair restoration procedures for Bay Area residents, from San Francisco to San Mateo to Palo Alto. Treatments include FUT, FUE, PRP plus other technologies to help stop hair loss. If one needs a hair transplant specialist, look no further than this Bay Area hair transplant center. Dr. Canales also performs female hair transplants for women and eyebrow restoration, thus offering the best hair transplant and robotic hair replacement options. Call today to 650-551-1100 for a no-cost consultation, or for more information visit http://siliconvalleyhairinstitute.com/.