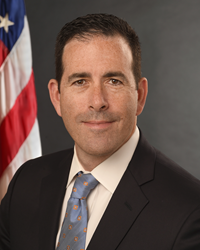 "Acknowledging and addressing social determinants of health is the key to truly person-centric healthcare, and is critical for our nation's health transformation." - Mandi Bishop, Founder & CEO, Lifely Insights & Health INSIGHTS Co-Chair
Arlington, VA (PRWEB) June 21, 2017
Bruce Greenstein, newly appointed Chief Technology Officer of the United States Department of Health and Human Services (HHS) will be a keynote speaker at Health INSIGHTS 2017 at 1776 Crystal City in Arlington, VA on Thursday, July 20th, 2017. Mr. Greenstein will speak about driving innovation and the optimal use of data across the HHS enterprise.
Mr. Greenstein was appointed the Chief Technology Officer (CTO) at HHS in May 2017. Mr. Greenstein most recently served as President at Quartet, which develops analytics and collaboration technology for behavioral and physical healthcare providers. Before that, he was CEO of Blend Health Insights, a consulting firm that advised health systems, payers, health IT companies and private equity firms in the U.S. and abroad on topics such as risk-based contracting, value-based purchasing and population health management. Just before that Mr. Greenstein served as Secretary of the Department of Health and Hospitals in the administration of former Louisiana Governor Bobby Jindal. There he helped implement reforms of the state health care system, including launching a managed care initiative for more than a million enrollees, pursuing privatization of state health care facilities and pushing for wider adoption of health IT. Before his position as the Secretary of the Department of Health and Hospitals in Louisiana, Mr. Greenstein was an executive at Microsoft where he led the company's worldwide health and human service business vertical with teams across the globe. He developed and led the worldwide go-to-market strategy and execution, as well as the development, promotion, and maintenance of relationships with government and health care elites (CEOs, Ministers, and Secretaries, of health care organizations) to drive Microsoft's value to customers in health care. Before Microsoft, Greenstein held senior positions in the federal government at the US Department of Health and Human Services, Centers for Medicare and Medicaid Services, as well as in Florida state government.
As the HHS CTO, Mr. Greenstein leads the Office of the Chief Technology Officer to provide leadership and direction on data, technology innovation and strategy across the U.S. Department of Health and Human Services. Areas of focus include promoting open data and its use to create value, driving more efficient operations through technology utilization, and coordinating strategy across the Department to improve the lives of the American people and the performance of the Department.
Mr. Greenstein joins the distinguished faculty of Health INSIGHTS which includes nationally recognized Health IT experts; Ed Marx, CIO of New York Health + Hospitals Corporation, Thomas Novak, Medicaid Interoperability Lead at ONC, Dr, Reyn Archer, Chief of Staff to Congressman Jeff Fortenberry.
Registration is now open for Health INSIGHTS, which will be hosted at the 1176 Crystal City on Thursday, July 20th, 2017. Health INSIGHTS is a national event bringing together Health System and Health Plan executives focused on applications of social determinants of health in population health management. At Health INSIGHTS the leading minds in healthcare data analytics and population health management reveal broader approaches that address social, economic, and environmental factors required to influence health. Mr. Greenstein and others will discuss what programs are working and where, where you start in your organization and community, and the technology and programs that use social determinants of health to risk stratify patients for better long-term health management.
Health INSIGHTS is presented by Purpose Events, producer of the nation's largest regional Health CIO event series, the HealthIMPACT Forum and chaired by Mandi Bishop, CEO & Founder of Lifely Insights and Fred Goldstein, CEO, Accountable Health LLC. Mandi brings with her years of experience in digital health and a passion for the application of SDoH data to improve patient care and clinical outcomes. About the event, Bishop said "We know that 80-95% of the factors that influence health are experienced outside the clinical setting. Acknowledging and addressing these determinants is the key to truly person-centric healthcare, and is critical for our nation's health transformation."
1776 Crystal City is a global corporation focused on empowers startup communities around the world to solve complex challenges. To accomplish this, they have a digital startup network, UNION; physical campuses in Washington, D.C., Crystal City, New York City, San Francisco and Dubai; a global startup pitch competition, Challenge Cup; and deep staff expertise in regulatory issues. They accelerate connections and outcomes among startups, corporations, and public institutions.
"Health INSIGHTS brings together the right people to make population health management work. Success will come only if health systems, health plans, and the public sector find a way to work together to share the right data in real time and in a secure fashion that protects the privacy and promotes the health of the population," said Antonelli, CEO of Purpose Events. "We are delighted to have 1776 as our venue partner and that Bruce Greenstein will be this year's keynote speaker. We are looking forward to learning how the new administration will drive innovation in healthcare. I've known Bruce since he was the State Medicaid Director in LA and there is no one more perfect to take on the challenging role of CTO of HHS or to keynote Health INSIGHTS. I am excited to see everything he will accomplish.", said Antonelli about the recent addition of Mr. Greenstein.
To register or learn more about HealthINSIGHTS visit http://www.healthinsights17.com, follow us on Twitter at https://twitter.com/hithealthimpact or like our Facebook page at https://www.facebook.com/healthimpactforum. To apply for media credentials, please contact Andrea Vergara at Andrea(at)purposeevents(dot)com.