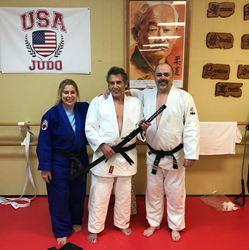 Courage is the first of human qualities because it is the quality which guarantees all others. – Winston Churchill
Redmond, WA (PRWEB) February 27, 2017
Head Sensei (Instructor) Ian Vosper says, "Judo is the best martial art for the blind and visually impaired." He speaks with authority having worked with the blind and visually impaired before opening the Rock Hill Judo Academy in 2015. Ian continues saying, "Judo is a positive and productive art for the blind."
Today, bullying issues continue to plague our society 2 - 3 times more to individuals with disabilities like low vision or blindness. Sensei Ian does not advocate physical aggression when competent in Judo but to be able to confront the bully and disarm the situation of this unfortunate epidemic facing society today. There is zero tolerance for bullying whether on the tatami (Judo mat) or off.
Rock Hill Judo Academy and the Blind Judo Foundation are recognized by PACER's National Bullying Prevention Center as a Champion Against Bullying.
Judo is about touch, feeling and motion which makes it an ideal sport for the blind and visually impaired. In the Paralympics, a visually impaired Judoka (Judo athlete) competes against another visually impaired Judoka.
However, in most non-Paralympic Judo events, a sighted person is the competition. Many who are not familiar with blind Judo question the pairing of a sighted person against the visually impaired until they see the results.
Judo training reaches beyond the sport of Judo by infiltrating the very fiber of the student. Most Judoka and loved ones will report better school grades; relationship with parents and peers; opportunity for employment and becoming a productive person of the community. Being a champion on the Judo mat translates to being a champion off the mat.
In the LightHouse News Winter 2017 Letter of the San Francisco LightHouse for the Blind and Visually Impaired, reports that 60% - 70% of legally blind people remain unemployed. Rigorous and enthusiastic support by family, friends, donors, foundations and grants are making a difference.
Here is where Judo becomes the catalyst for building confidence, character, compassion, making commitments, humility, respect and responsibility. There's not much a blind person can't do if given the tools and opportunity.
Judo is one such "tool."
Check out Rock Hill Judo Academy and their outstanding staff of seasoned Instructors and their empathy to empower and enhance the blind and visually impaired through the sport of Judo.
About us:
The Blind Judo Foundation is a nonprofit 501(c) (3) organization who introduces and trains blind and visually impaired children, young adults and our returning blind and visually impaired military men and women in the sport of Judo. Supporting our blind athletes to train, travel, attend camps and compete relies upon your tax-exempt donations.
All members of the Blind Judo Foundation are volunteers. A select few of our elite athletes go on to represent the USA as members of the US Paralympic (not to be confused with Special Olympics) Judo Team. More about the Foundation can be seen on our Facebook page. Ron C. Peck can be contacted at roncpeck(at)blindjudofoundation(dot)org or 1-425-444-8256 or Coach Willy Cahill at 1-650-589-0724