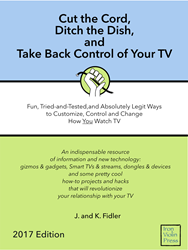 Everyone has heard the horror stories or knows someone who defiantly said 'hasta la vista' to a provider, only to miserably crawl back and uncut the cord just a few months later. It doesn't have to be like that! - Joe Fidler, co-author of new ebook
INCLINE VILLAGE, Nevada (PRWEB) March 03, 2017
For all the talk about people going rogue and cutting the cord, overall attrition from cable and satellite TV providers in the US is still just at 1% a year (The Economist, July 15, 2016).
There's a reason. When people decide to bid farewell to their TV provider, there hasn't been a place to go for basic, complete, step-by-step information on how to cut the cord successfully…until now.
Joe Fidler and Kimber Fidler have written an ebook that sets out to clear the confusion and foil the frustration around cord cutting. The book, Cut the Cord, Ditch the Dish, and Take Back Control of Your TV, is described by the authors as an indispensable resource of information, new technology, how-to projects and hacks that will revolutionize the way you watch TV.
"In my background in systems engineering and product marketing, there was a lot of discussion about the FUD factor among customers – fear, uncertainty, and doubt – and I've never seen it as prevalent as in cord cutting" said Joe Fidler, co-author. "Everyone has heard the horror stories or knows someone who defiantly said 'hasta la vista' to a provider, only to miserably crawl back and uncut the cord just a few months later. It doesn't have to be like that! This book is about removing the FUD, because it's quite possible to be successfully and happily cord free when it comes to TV."
The couple cut the cord nearly a decade ago. In that time, they've explored lots of options, tried out lots of products and they've compiled the information, research and their experiences to create a time saving, easily-understood, thorough guidebook for readers of all technical levels to find their own way through the tangled maze of cutting the cord. The book provides support and "been-there-done-that" tips, along with fun DIY projects. Some of the topics the nearly 400-page ebook covers include:

Basic information that every cord-cutter or prospective cord cutter should know: terms, items to consider when deciding if or whether to cut the cord, technical skills needed, and what to expect;
How to watch live and recorded over-the-air TV channels in an app — on a tablet, phone, computer, or smart TV – from a single shared TV antenna;
Exploring ways to use new streaming services like Sling TV, CBS All Access or Direct TV Now to get "must have" cable news, sports and specialty shows;
Building a complete and affordable solution by combining streaming services (like Netflix, Sling TV, etc.) with over-the-air TV in the same on-screen menu, on equipment you own;
Maximizing over-the-air TV for your location: finding out what channels you can get, and how to choose, install and optimize a digital TV antenna;
Understanding and employing current TV and streaming technologies – casting, streaming sticks, AndroidTV, smart TVs, streaming media, wireless/wired network equipment, Roku, 4K TV, DVRs, and Windows, Apple and Linux OS solutions, etc.;
...and much more.
"This book really does cover projects for every technical level," said Kimber Fidler, co-author. "As a case in point, I'm really not much of a DIY'er. But for months, every conversation with my Mom was about how much she hated the cost of her satellite TV package after the provider more than doubled her fees. Based on Joe's and my experiences, and armed with a few common tools, I was able to set her up on broadcast-to-air TV in about two hours. She immediately noticed the improvement in picture quality and she loves not having to pay for TV. It was such a great feeling, being able to help my Mom."
Cut the Cord, Ditch the Dish, and Take Back Control of Your TV is available for purchase through LeanPub, and is regularly priced at $20.00, which includes a year of updates for new information and technologies. The authors are offering a 20% discount using this link: http://leanpub.com/control_your_tv/c/March_Madness. The discount is valid until March 31, 2017. The ebook is compatible with Kindle, iBook and Nook, and is also available in PDF format.
The ebook's entire table of contents is available on the LeanPub site, as well as a sample chapter, which is a step-by-step guide for digital antennas — what to consider when purchasing all the way through to installation.
Two additional sample chapters of the ebook are available at http://controltv.ironviolin.com/samples-from-the-book/: one is "Navigating the Journey Ahead," for those considering cutting the cord and looking for a way to proceed; and the other is using a Roku to access internet streaming services like Netflix and Hulu, alongside live or recorded antenna TV from a networked DVR.
For more information, please visit http://controltv.ironviolin.com/, on Twitter (@TakeControlTV (https://twitter.com/TakeControlTV) ), on Facebook (https://www.facebook.com/ControlYourTV/), or email info(at)ironviolin(dot)com.
All marks herein are properties of their respective owners, and reference to any specific commercial product, process or service by trade name, trademark, service mark or otherwise does not constitute or imply its endorsement, recommendation or favoring by the owner.
For more information, please contact info(at)ironviolin(dot)com.
###