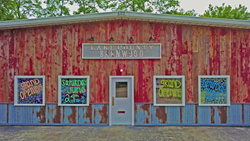 That's what we're looking for... the old barns that look like they are going to collapse any minute.
Lake Villa, Illinois (PRWEB) June 20, 2017
During a drive through the country a few years ago, Frank Kersey and his father-in-law Paul Quinn started to take notice of the many crumbling historic barns they passed. Over the years, many of these beautiful, historic structures have been blown into distorted shapes from decades of enduring violent summer storms and harsh winters. Unfortunately, as these buildings become structurally unsound, they can also become a safety hazard to the families that live near them. "That's what we're looking for." Explained Paul. "The old barns that look like they are going to collapse at any minute. Then, it's time to get to work."
For the past five years, Frank and his wife Shannon have been using repurposed barn wood to create beautiful pieces of furniture, giving new life to an old barn. Frank's attention to detail and his quality craftsmanship has gotten the attention of interior designers from as far away as New York, Georgia, and the west coast. One-of-a-kind wine cabinets, tables, shelving units, and other pieces, are almost always purchased immediately upon completion. The popularity of his furniture promoted the opening of the new store, so others could easily obtain repurposed wood for their own creations. "In addition to the furniture that we build here, we are now working more and more with DIY customers and custom home and restaurant builders who want to use our wood inventory to create something truly unique." Continued Shannon.
Together, the team meets with the property owners to learn as much history as possible about each barn. Sandy, Paul's wife photographs each barn and then the de-construction begins. Paul begins by searching the structure for old tools, pulleys, and other remnants of the structure's past that will be cleaned-up and sold at the store. Every board is carefully removed, loaded onto a trailer, and delivered to the Lake County Barnwood store in Lake Villa, IL. In an age when technology moves so rapidly, much of the available furniture is made from press-board and comes with cheap tools for assembly, it's nice to see one local family's effort to slow us down and appreciate something unique, high-quality, and recycled.
The public is invited to visit the Lake County Barnwood store at 36961 North Route 83 in Lake Villa for the Grand Opening this Saturday (June 24th) from 10:00am - 7:00pm. Face painting and a coloring station will be provided for the kids. There will be music, as well as "The Little Wine Wagon" on display, created by Frank using 100 year old wood. For more information call (224) 444-8918, http://www.LakeCountyBarnwood.com, or on Facebook, @lakecountybarnwood