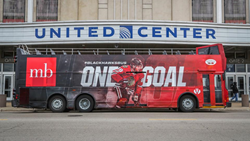 Chicago, IL (PRWEB) April 13, 2017
For the second consecutive year, MB Financial Bank and the Chicago Blackhawks will feature the MB Blackhawks Bus, a double decker bus that will travel throughout the Loop, Magnificent Mile, Gold Coast, River North, Navy Pier and Museum Campus during the Blackhawks National Hockey League (NHL) playoff run. The fully wrapped, branded bus is one of the many ways MB Financial Bank continues to spur citywide momentum and fan support for the Blackhawks' throughout the Stanley Cup Playoffs.
"MB is thrilled to support the hockey team with the best fans in the NHL," said Rob Gilland, MB Financial Bank's Chief Marketing Officer. "Connecting fans and the city of Chicago with the Blackhawks is an exciting honor and something that we are very proud of. We look forward to celebrating the Blackhawks playoff run with fans across Chicago."
In addition to raising awareness around the team's postseason efforts, fans will have a number of opportunities to win special Blackhawks prizes. By posting the hashtag #blackhawksbus, fans that share photos of the MB Blackhawks Bus are eligible to win special prizes including playoff tickets, Blackhawks autographed gear and MB gift cards.
Fans also have the opportunity to be a part of various lunch hour experiences, including a scavenger hunt around Chicago which will feature opportunities to meet Blackhawks alumni and to win more playoff prizes. Detailed information on all of the lunch hour experiences will be announced via MB and the Blackhawks' social channels for the bus takeover.
To learn more about the MB Blackhawks Bus and giveaway promotions, please join the conversation on MB Financial Bank's Twitter and Facebook pages or go to http://www.nhl.com/blackhawks/fans/mb-blackhawks-bus.
About MB Financial
MB Financial, Inc. is the Chicago-based holding company for MB Financial Bank, N.A. which has approximately $19 billion in assets and a more than one hundred year history of building deep and lasting relationships with middle-market companies and individuals. MB offers a full range of powerful financial solutions and the expertise and experience of bankers who are focused on their clients' success. MB Financial Bank is a wholly owned subsidiary of MB Financial, Inc. (NASDAQ: MBFI).