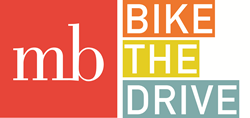 Chicago, IL (PRWEB) April 04, 2017
For the 16th consecutive year, the heavily anticipated MB Bike the Drive event will once again serve as the city's unofficial kickoff to summer on Sunday, May 28. Hosted by the Active Transportation Alliance, a non-profit organization dedicated to improving conditions for bicycling, walking and transit, this year's motorist-free ride along Lake Shore Drive punctuates Chicago's recent distinction as the nation's leading bike-friendly city. The Windy City climbed from tenth to first place in Bicycling Magazine's annual ranking, over just six short years. MB Financial Bank marks its eighth year as the event's title sponsor.
"MB Bike the Drive continues to rally thousands of Chicagoland residents during one of the city's busiest holiday weekends," said Rob Gilland, Chief Marketing Officer at MB Financial Bank. "As title sponsor of this unique, family friendly event for eight years, MB receives consistent feedback from participants affirming the amazing experience of biking car- free on Lake Shore Drive while enjoying the views. And now that Chicago has been named "America's Most Bike-Friendly City" we are even more thrilled to sponsor this ride. We're very grateful for our partnership with the Active Transportation Alliance and all they do to support better biking, walking and transit."
Beginning today, MB Bike the Drive participants can save $3.00 on the general registration fee using discount code MBSAVE3. For more information, please visit http://www.mbbikethedrive.org.
About MB Financial
MB Financial Bank N.A. is a Chicago-based commercial bank with approximately $19 billion in assets and a more than one-hundred-year history of building deep and lasting relationships with middle-market companies and individuals. MB Financial Bank offers a full range of powerful financial solutions and the expertise and experience of bankers who are focused on their clients' success. MB Financial Bank is a wholly owned subsidiary of MB Financial, Inc. (NASDAQ: MBFI).
About Active Transportation Alliance
The Active Transportation Alliance is a non-profit, member-based advocacy organization that advocates for walking, bicycling, and public transit to create healthy, sustainable and equitable communities. The organization works to build a movement around active transportation, encourage physical activity,