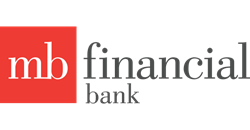 "We saw an opportunity to get involved and help these young people identify pathways where they can prosper." Mitch Feiger, President & CEO, MB Financial, Inc.
Chicago, IL (PRWEB) September 07, 2017
Today, MB Financial announced it will expand MB on the Block: Education, a program aimed at helping high school students earn a living wage by their mid-twenties.
"We recognized that in many Chicago Public High Schools, students are graduating without the plans in place to succeed in college or their careers, significantly limiting their future potential," said Mitch Feiger, CEO and President of MB Financial, Inc. "We saw an opportunity to get involved and help these young people identify pathways where they can prosper. The better educated the youth in our communities are, the better jobs they can get, the higher standard of living they can achieve which positively impacts our communities and our city."
MB on the Block: Education helps students find a path that is best for them – whether it is college, career readiness, or technical training – to increase the number of students on track towards good paying, in-demand jobs.
MB on the Block: Education provides services to over 800 students at Gage Park High School and Wells Community Academy High School that address the complex issues often facing this student population of urban youth. Each student receives support starting their freshman year and continuing beyond graduation with ongoing college and job training assistance.
Since the program's launch in 2015, 266 students have graduated high school, 91% were accepted to college, 3% enlisted in the military and 17% entered a job readiness program.
MB will expand the MB on the Block: Education curriculum for the 2017-18 school terms by offering certificate credential programs as well as an employee mentoring program.
"I am just as concerned with the students who aren't going to college as those that are," commented Brian Metcalf, Chicago Public Schools, Chief of Schools Network Six and former Gage Park High School Principal. "Through this public-private partnership we have planning resources for every student and not solely a focus on college-bound students. I think this is going to be a new model for underserved communities."
The continuum of services offered in the program includes:

Newly renovated career and college centers
Cumulative four-year social/emotional curriculum
On-site, salaried career coaches
Ongoing college support through on-campus guidance, mentoring, and follow-up
Opportunities for internships at MB and at MB client companies
"Gage Park and Wells Community Academy High Schools, like many schools in Chicago, are anchor community institutions in low- and moderate-income areas," said Debbie Kobak, President of the MB Financial Bank Charitable Foundation. "MB believes that by investing in young people at this critical time in their lives we can prepare more students for success post-high school, leading to better outcomes for them, their families, and the communities they live in."
About MB Financial Bank
MB Financial Bank's holding company, MB Financial, Inc., is traded on the NASDAQ as "MBFI." MB Financial has approximately $20 billion in assets. MB Financial Bank (http://www.mbfinancial.com) is a locally operated financial institution that has been delivering competitive personalized service for over 100 years to businesses and individuals who live and work in the Chicago metropolitan area.
# # #