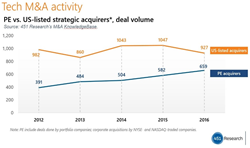 In the history of the industry, there have never been more tech-focused buyout shops with access to more capital, collectively, than right now
Boston, MA (PRWEB) April 03, 2017
451 Research's M&A KnowledgeBase reveals a sharp increase in private equity (PE) technology acquisitions in the first quarter of 2017. With sharp elbows and deep pockets, PE shops have announced more deals so far this year than the opening quarter to any year since the end of the recent recession. Already in 2017, 451 Research's M&A KnowledgeBase has tallied 184 transactions by PE firms and their portfolio companies, a 26% jump from the previous record in Q1 2016.
Further, cash-rich financial acquirers represent the only significant group that's accelerating activity in an otherwise slowing tech M&A market. The dramatic surge in PE activity can be attributed to an ever-deepening pool of financial buyers. "In the history of the industry, there have never been more tech-focused buyout shops with access to more capital, collectively, than right now," says Brenon Daly, 451 Research's Research Director, Financials. "New PE firms have popped up, while existing shops have put even more money to work in the tech industry." Clearlake Capital Group and TA Associates, for instance, have both already announced as many deals in 2017 as they would typically print in an entire year.
At the same time, having record amounts of money doesn't necessarily mean that firms will do more shopping. The market hasn't seen increased buying among corporate acquirers, the main rivals to PE shops, even though tech companies that trade on the NYSE and Nasdaq have never had fatter treasuries. According to the M&A KnowledgeBase, the number of acquisitions announced by US-listed corporate acquirers in 2016 dropped 11% compared with 2015. In contrast, PE firms registered almost exactly the inverse, with the number of transactions increasing 13% in 2016 from 2015.
Cash-rich financial acquirers represent the only significant group that's accelerating activity in an otherwise slowing tech M&A market. In the years immediately following the credit crisis, tech companies listed on US exchanges regularly put up twice as many prints as PE firms. However, for full-year 2016 and so far in 2017, M&A volume for corporate acquirers is only about 30% higher than their financial rivals, according to the M&A KnowledgeBase. "As financial acquirers step up their activity and strategic buyers step back, the once-yawning gap between the rival buying groups is narrowing," says Daly.
For more real-time information on tech M&A, follow us on Twitter @451TechMnA.
About M&A KnowledgeBase
451 Research's M&A KnowledgeBase (MAKB) is a valuation database of nearly 50,000 technology M&A transactions plus proprietary intelligence on independent private companies. It is the industry's only TMT-focused M&A database and provides proprietary deal value estimates for key acquisitions within more than 650 specific technology sectors. This intelligence is based on extensive primary research from more than 100 analysts who will collectively produce about 4,500 reports annually on the strategy, innovation and financial events at the companies we cover.
About 451 Research
451 Research is a preeminent information technology research and advisory company. With a core focus on technology innovation and market disruption, we provide essential insight for leaders of the digital economy. More than 100 analysts and consultants deliver that insight via syndicated research, advisory services, and live events to more than 1,000 client organizations in North America, Europe and around the world. Founded in 2000 and headquartered in New York, 451 Research is a division of The 451 Group. Learn more.
For media inquiries please contact:
Kaitlin Buckley
Marketing Coordinator
Kaitlin.buckley(at)451research(dot)com
T: +1 617-598-7212