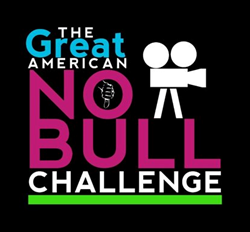 Pleasanton, California (PRWEB) April 21, 2017
Announcing the 2017 NO BULL video winners:

Great American NO BULL Challenge 2017 by Zed Howington – Documentary of the Year
Jayson's Journey: Filling the Void by Mariah Ospina – College Documentary of the Year
The End of the Road by Brianna Seaberg – PSA of the Year
Depression by Caitlin Kelly – Best Message Documentary
The Bystander Effect by Tasnim Ullah and Alina Hiba – Best Community Involvement Documentary
Cyber-bullying is NOT a Silent Crime by Hunter Reynolds – Best Message PSA
We Are All One by Jauanna Harris – Best Community Involvement PSA
Students were presented their awards at each of their campuses through surprise announcements.
Founded in 2011, The Great American NO BULL Challenge is a social action organization that uses the power of social media and the magic of filmmaking to inspire students to create short films or PSA's that raise awareness and inspire positive social action on issues affecting today's youth. NO BULL provides the framework and motivation at no cost to schools and organizations to develop powerful short films and PSA's; empowering students to promote leadership, social justice, and to inspire positive change in their schools and communities.
CHANGE MAKERS REACHING MILLIONS