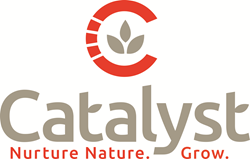 Hire for attitude. Train for skill - Idaho Organic Premix Manufacturer
URBANDALE, Iowa (PRWEB) February 27, 2017
In starting a program to hire college athletes, Catalyst COO Jos Zamzow is following the advice of his grandfather, "Hire for attitude. Train for skill."
In keeping with this philosophy, the Catalyst an Iowa premix manufacturer recently hired Iowa State University star linebacker Jevohn Miller as a salesman. Zamzow is hoping to replicate the practice throughout the company.
"I've heard coaches talk on television about graduating athletes who would be successful no matter what they do. After a brainstorming session about the qualities we want in our employees, it clicked that I should call and ask for the names of these athletes," Zamzow said.
"We were at our Boise office discussing that we wanted self-starters with determination, a high level of competitive spirit and the ability to work with a team. Someone said jokingly, 'That sounds like most of the Boise State University football team.'
"The idea snowballed, and we realized we should take it seriously," he continued. "The top athletes aren't your typical college kids. If they are playing on a major college team, they are young people who have been working for years to even get to that level. Then they have spent another four years developing self-discipline and teamwork in the most literal sense. The program is in its beginning stages, and we feel it is a solid blueprint for our hiring strategy moving forward.
"Jevohn is the first person we hired under the program. We are hoping to work with Idaho colleges to find employees for our other operations as well," Zamzow added.
Dana Partridge, head of Catalyst's Midwest operations commented, "To achieve at a high level in college athletics takes years of self discipline and focus. We want to tap into that pool of young people who have proven they are willing to do the work necessary to be successful."
Miller, who grew up in the small Iowa town of Brooklyn with a population of 1,400, showed unusual determination to become a star linebacker on a Big 12 football team. "Jevohn is a poster child for what we are looking for. He's always been hungry and has shown that focus and desire to succeed long before anyone was interviewing him for a job," Partridge added.
Catalyst, Inc., recently achieved its organic certification and also has received the Safe Feed/Safe Food Certification administered by the American Feed Industry Association. Only about 450, or 7.5 percent, of the nation's almost 6,000 feed mills, have earned the certification. Catalyst's OCM Global all-natural blend of minerals has been sold worldwide for more than 50 years in the poultry, cattle and other livestock industries.
Catalyst is owned by Dynamite Marketing, based in Meridian, Idaho, Dynamite Marketing, a fourth-generation family-owned company, produces horse feed, dog food and related products for virtually all living creatures.
Additional information about Catalyst is available at http://www.catalystnng.com or by calling (515) 254-1290. Additional information about Dynamite is available at http://www.dynamitespecialty.com or by calling (800) 697-7434.