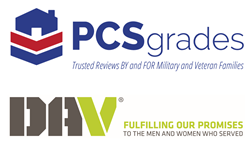 The Veteran Community taking care of it's own.
San Antonio, Texas (PRWEB) July 26, 2017
DAV is a nonprofit charity that provides a lifetime of support for veterans of all generations and their families, helping more than one million veterans in positive, life-changing ways each year. With almost 1,300 chapters across the country, DAV empowers our nation's heroes and their families by helping to provide the resources they need and ensuring our nation keeps the promises made to them.
PCSgrades provides a unique online community for veteran and military families to share trusted information with each other through reviews on neighborhoods, REALTORS®, mortgage lenders, apartments, schools and more. The platform was created by veterans, service members and their spouses to facilitate information sharing among the people they most identify with and trust the most, their fellow veteran and military families.
"This collaboration between DAV and PCSgrades is exactly what it looks like when people say the veteran community takes care of its own and it brings a wealth of new resources for our veterans and their families when moving," said DAV National Headquarters Executive Director Barry Jesinoski. "PCSgrades is truly different by design and I'm very excited they've partnered with DAV."
According to PCSgrades CEO and Co-Founder, Todd Ernst, "We tend to identify with and trust our fellow veterans based on our shared experiences and sacrifices, so it's only natural that we lean on each other first in our times of need. That's exactly why PCSgrades was built, to provide a better way for our fellow veteran and military families to help each other. By working together, we can truly make a difference in our own lives and the lives of those we all had the privilege of serving with."
To learn more, visit http://www.PCSgrades.com or http://www.DAV.org.
About PCSgrades
Headquartered in San Antonio, PCSgrades.com was launched in late 2015 by a team of veterans, military members, and military spouses. The online community gives a voice to our fellow military and veteran families unlike ever before by addressing must-solve relocation problems through trusted reviews on topics such as neighborhoods, REALTORS®, mortgage lenders, apartments, schools, and more. The service is free to current and former service members and spouses. For more information, visit http://www.PCSgrades.com.
About Disabled American Veterans
DAV empowers veterans to lead high-quality lives with respect and dignity. It is dedicated to a single purpose: fulfilling our promises to the men and women who served. DAV does this by ensuring that veterans and their families can access the full range of benefits available to them; fighting for the interests of America's injured heroes on Capitol Hill; providing employment resources to veterans and their families and educating the public about the great sacrifices and needs of veterans transitioning back to civilian life. DAV, a non-profit organization with 1.3 million members, was founded in 1920 and chartered by the U.S. Congress in 1932. Learn more at http://www.dav.org.