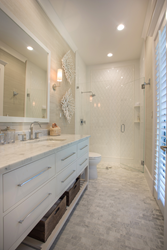 We are thrilled that people on Houzz use our work as inspiration and examples for their own projects!
(PRWEB) January 18, 2017
Over 40 million monthly design aficionados in the Houzz online community voted Pineapple House Interior Design as the "2017 Best of Houzz Design" and "2017 Best of Houzz Service." Analytics in 2016 via data such as clicks, shares and saves are used as "votes" to determine the 2017 design awards, and the service recognition is assessed using a number of factors.
Over one million design and construction professionals are represented on Houzz. This is the third consecutive year that Pineapple House has earned the "Best of Houzz Design" distinction. The Atlanta-based firm was also recognized with "Best of Houzz Service" for their focus on quality and satisfaction for Houzz and their clientele in both 2015 and 2017.
"We are so pleased to award "Best of Houzz 2017" to this incredible group of talented and customer-focused professionals," said Liza Hausman, vice president of Industry Marketing for Houzz.
Pineapple House Executive Vice President, Amber Gizzi said, "The "Best of Houzz Design" is calculated by the attention that our projects receive from the online community. We are thrilled that people on Houzz use our work as inspiration and examples for their own projects. We're also very appreciative about the Service recognition. Our teams work diligently to deliver both exceptional design and superior customer service."
Houzz has added the two new "Best Of Houzz 2017" badges to the Pineapple House profile, as an acknowledgement to the firm's commitment to excellence.
About Pineapple House Interior Design:
Atlanta's Pineapple House Interior Design is a think-tank of creative minds with expertise in interior home design, architectural design, décor, furnishings and construction. Award-winning designers guide clients through any aspect of the design/build process, from decorating an existing home to any degree of construction. The firm has won 40 ASID "Design Excellence Awards," three "Best of the Best" awards from IIDA and the "2016 Most Innovative Designers in the USA" from BUILD. Their work has been featured in over one hundred magazines, a dozen coffee table books, and on 12 television networks. The Pineapple House residence for Hollywood producer Will Packer and his family was featured by Architectural Digest in 2016. Visit pineapplehouse.com for more information.
About Houzz:
Houzz is the leading platform for home remodeling and design, providing people with everything they need to improve their homes from start to finish – online or from a mobile device. With the largest residential design database in the world and a vibrant community empowered by technology, Houzz allows people to find inspiration, get advice, buy products and hire the professionals they need to help turn their ideas into reality. Headquartered in Palo Alto, CA, Houzz also has international offices in London, Berlin, Sydney, Moscow and Tokyo. Houzz and the Houzz logo are registered trademarks of Houzz Inc. worldwide. For more information, visit houzz.com.