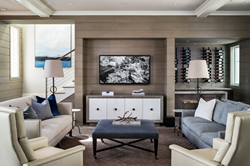 Our relationship with Floridian National Golf Club has been a professional pleasure.
Atlanta, GA (PRWEB) March 30, 2017
Pineapple House co-owners Zach Azpeitia and Amber Gizzi are pleased to announce that their Atlanta-based firm is helping build and decorate two residences at The Floridian National Golf Club in 2017.
The design/build firm Pineapple House Interior Design began building new homes at Floridian National Golf Club in late 2012. Two completed Floridian residences received prestigious "Design Excellence" awards from the professional organization American Society of Interior Designers (ASID) in 2015. In 2016, Pineapple House won a third "Design Excellence" award for a Floridian National residence called Golfer's Retreat.
Under the new commitment, the Atlanta-based company will help build and decorate two more new residences in the prestigious Floridian location, which will make a total of eight brand new homes with interiors orchestrated by Pineapple House in the luxury golf community.
Pineapple House co-owner and Senior VP of Design Zach Azpeitia says, "Our relationship with Floridian National Golf Club has been a professional pleasure. We look forward to orchestrating two new residences for the world-class organization."
Homes and cottages that Pineapple House designs at Floridian National are conducive for both intimate gatherings and large social events. Typically, all of the bedrooms in a residence are self-contained master suites, each with a water closet, double vanity, morning bar and amenities generally found in a 5-star hotel. Residences in the community often host multiple guests on golf get-aways, and are conceptualized to maximize the privacy and comfort of their guests.
About Pineapple House Interior Design:
Innovative + award-winning interior design, architectural design & design/build. President Stephen Pararo, Executive VP Amber Gizzi and VP of Design, Zach Azpeitia, are co-owners of the world-class design and management firm Pineapple House Interior Design. Based in Atlanta, the 35-year old firm merges interior design and architecture into a design system that clients describe as effortless, uncomplicated and absolutely entertaining. For more information, visit pineapplehouse.com.
About Floridian National Golf Club:
Floridian National Golf Club is a state-of-the-art golf course and luxury real estate community located on the St. Lucie River in Palm City, FL.