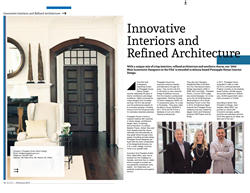 Pineapple House's trademarks are aesthetic excellence and superior service.
Atlanta, GA (PRWEB) March 09, 2017
Pineapple House Interior Design was awarded the 2016 Most Innovative Designers in the USA by the British global construction industry magazine BUILD. The Atlanta-based interior architecture and design firm was showcased in BUILD's February 2017 issue.
Pineapple House recently celebrated 35 years as a world-class leader in interior design, furnishings, décor, architectural specification and construction management. Co-owners Amber Gizzi, Zach Azpeitia and Stephen Pararo head the think-tank of designers known for blending crisp interiors, refined architecture and southern charm. Unique solutions have earned the firm forty Design Excellence awards from the professional organization, American Society of Interior Designers (ASID.) Pineapple House is the only firm in US history that has received ASID Design Excellence awards annually for 15 consecutive years.
Pineapple House manages design and construction projects both nationally and internationally. Executive Vice President Amber Gizzi, Allied ASID, states, "We've worked from the Caribbean to Canada, and know that no matter where a project is located, we can gracefully orchestrate every aspect. Pineapple House's trademarks are aesthetic excellence and superior service."
BUILD magazine prides itself as being a source of technical information, need-to-know content and updates from across the global design, construction, architecture and property industries. The magazine has featured contributions from some of the world's foremost construction experts plus news, features and commentary about the latest products and techniques, design trends and regulations.
About Pineapple House Interior Design:
Atlanta-based Pineapple House Interior Design has expertise in interior home design, architectural design, décor, furnishings and construction. Award-winning designers guide clients through any aspect of the design/build process, from decorating an existing residence to building a new home or hotel. They were voted the "2017 Best of Houzz Design" and "2017 Best of Houzz Service" by over 40 million monthly users in the industry giant's online network. The firm's work has been featured in over one hundred magazines, a dozen coffee table books, and on 12 television networks. Visit pineapplehouse.com for more information.
About BUILD:
Based in the United Kingdom, BUILD is a globally focused construction magazine. Their distributions spans a worldwide network of more than 110,000 dedicated and informed industry experts. BUILD is a comprehensive source of industry information, covering all aspects of buildings, infrastructure and related works. The magazine highlights everything related to corporate social responsibility across a vast number of sectors, including, but not limited to new-build and construction, property and asset management, interior design and architecture, project management and procurement, mechanical and electrical, energy, utilities and civil engineering. Additional information can be found on build-news.com.