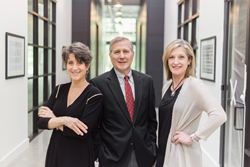 Two (or three) heads are better than one. This philosophy echoes in our corporate culture. Every design project is managed by a team.
Atlanta, GA (PRWEB) April 01, 2017
Pineapple House Interior Design founder Stephen Pararo has provided the vision for the award-winning design company for 35 years. In this time, Pineapple House has earned a number of honors and awards – as well as the distinction of being managed by family members. Pararo's sister, Cynthia Pararo, joined Pineapple House 25 years ago as the Chief Operations Officer, and 17 years ago, sister-in-law Sharon Pararo joined the team as the Chief Financial Officer. For six years, from 2002 – 2008, Pararo's younger brother David (Sharon's husband) was the firm's Construction Manager.
Home Accents Today explored the Pararo's influence on Pineapple House in a February, 2017 feature. The article highlights the dynamics inherent in working with family in the design industry.
A successful business takes a lot of work and dedication. To that end, family members tend to help and support each other 24/7. "Two (or three) heads are better than one," states COO Cynthia Pararo. "This philosophy echoes in our corporate culture. Every design project is managed by a team – generally a lead designer and a project manager – and they have support when they need it via our other designers, our back office and our installers. The designers and staff are always there for each other. "
The style, finesse and dedication of the designers and family have resulted in a number of interior architecture and interior design honors on Pineapple House's curriculum vitae:
Online:
2017, 2016, 2015 Best of Houzz DESIGN
2017, 2015 Best of Houzz SERVICE
International:
2017 Panel Judge, Envision Design International Competition
2016 Most Innovative Designers in the USA by BUILD
2015 Construction & Engineering's Best Interior Design: Georgia
2008, 2007 and 2006 Residential "Best of the Best" from International Interior Design Association (IIDA)
National:
2017 Best Residential Interior Design, GA, Mid-Shore Excellence Awards
2016 - 2001 A total of 40 Design Excellence awards from the American Society of Interior Designers (ASID)
2015 HGTV Panel Judge, "Fresh Faces of Design"
2014 "Small Business Person of the Year" US Small Business Administration's (SBA) 1st runner up, GA
Local:
2017 Atlanta Business Hall of Fame
2016 Best of Atlanta by AA Program
2016 Top Atlanta Designer by EXPERTISE
2015 Best of Interior Design: Georgia by BUILD
2014 - 2013 Top Atlanta Interior Designers by Atlanta Business Chronicle
2008 Best Places to Work (# 6) by ATLANTA magazine
2004 Best Places to Work (top 75) by ATLANTA magazine
Television:
CNN, NBC, CBS, HGTV, the Discovery Channel, Bravo, USA, the Travel Channel, TBS, DirecTV and MTV
Print:
Hundreds of magazines, coffee table books, college text books, industry manuals
About Pineapple House Interior Design:
Pineapple House Interior Design is a think-tank of creative minds with expertise in interior design, architectural design, décor, furnishings and construction. Based in Atlanta and working both nationally and internationally, award-winning designers guide clients through any aspect of the design/build process, from decorating a single room to building a new home or hotel. Visit pineapplehouse.com for more information.