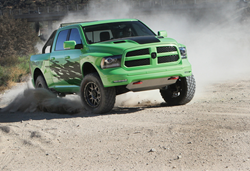 The Minotaur is not available from your local dealership. Trucks can only be ordered directly from Prefix Corporation.
Rochester Hills, Michigan (PRWEB) February 01, 2017
The Minotaur RAM® 1500 truck is a substantial custom conversion offered from the performance division of Michigan based Prefix Corporation®. Last month, the truck was on display at the the huge Barrett-Jackson automotive and luxury lifestyle event in Scottsdale. Crowds gathered around the truck and orders were taken. "Thousands of people attend the Barrett-Jackson event." Explained Prefix Marketing Director, Jhan Dolphin. "Fans have clearly paid attention to what we've been doing with the Minotaur trucks and know that production is very limited." Prefix estimates only 200 Minotaurs will be produced in 2017. "We like the idea of limited Production." continued Dolphin. "Buyers enjoy knowing that they may be the only one in their town driving something special and custom, like a Minotaur."
During the past year, The Minotaur has been featured in numerous magazine articles and on television. Additionally, Prefix's demo trucks have attended trade shows, live events, toured the country, and they even entered a V-10 powered race-version of the Minotaur (driven by veteran Baja Champ, Kent Kroeker) into the Baja 1000. Their Baja effort was filmed by ©Red Bull TV for their "Driving Dirty - The Road to the Baja 1000" online series.
Prefix Corporation operates multiple midwestern facilities, and since 1979 has become a single-source American manufacturing, prototype, and concept vehicle solution, with wide ranging capabilities that support aviation, automotive, motion picture, and other industries. The Prefix Performance division specializes in low-volume production niche vehicles like the Minotaur, as well as some pretty impressive engine development and performance modifications.
Although the Minotaur conversion was engineered from the same Baja racing heritage found in championship desert race trucks, it is those same characteristics that make it ideal as a daily driver. This highly engineered suspension system improves the overall vehicle stance for greater handling and stability at high speeds on the highway, yet provides impressive off-road confidence. The aggressive stance of the vehicle is dramatically enhanced by the very wide front and rear fenders. Going way beyond a simple lift-kit, Minotaur uses the race-proven KORE® Tactical Series suspension with custom designed FOX® 3" internal bypass racing shocks, providing the truck with an impressive 14" of suspension travel. The 4" of lift gives the 35" all-terrain tires ample clearance and provides a remarkable approach angle of 41 degrees, and departure angle of 30 degrees. The aluminum skid-plate with red tow hooks and low profile front fascia with integrated fog lights, and side body graphics complete the vehicle's aggressive appearance.
Prefix provides a tasteful list of optional features to allow buyers additional personalization, including performance upgrades like a supercharger and/or 6.4L engine swap. The Prefix paint facility even offers an option of painting Minotaurs any color custom color you can imagine.
The Minotaur is not available from your local dealership. Trucks can only be ordered directly from Prefix Corporation. For detailed pricing on the Minotaur program, and information about Prefix Performance, inquire at: http://www.prefix.com/Index/Contact.