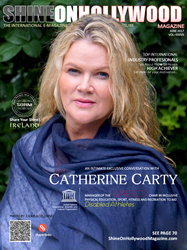 "So many of our dreams at first seem impossible, then they seem improbable, and then, when we summon the will, they soon become inevitable." – Christopher Reeve
San Francisco, CA (PRWEB) July 11, 2017
Shine On Hollywood Magazine is a politics and gossip free publication focusing on "Real people, Real stories," of individuals who are making a difference on the world stage. This month they feature UNESCO Chair Catherine Carty as part of this issue's topic focusing on Top International Industry Professionals.
UNESCO, an Agency of the United Nations organization was created in 1945. To accomplish collaboration, Chairs are established to further research, training and program development by building networks around the world. They encourage international peace and universal respect for human rights by promoting collaborations among all nations pursuing it objectives through five major programs: education, natural science, social and human services, culture and communications/information.
Headquartered at the Institute of Technology Tralee in Ireland, the UNESCO Chair in Inclusive Physical Education, Sport, Fitness and Recreation is developing programs to help disabled members of society achieve their goals by focusing in the areas of communication, research, advocacy, fund-finding, training and education.
As the manager of the Chair at IT Tralee, Catherine said her goal is to "transform the lives of people with disabilities, their families and communities, through physical education, sport, recreation and fitness."
Sports is at the intersection of bring diverse and disabled people in need of inclusion together for the common good, succeeding with one sport that reaches around the world with a common language called Judo.
Early in 2017 the UNESCO Chair met Ron C. Peck, Co-Founder of the Blind Judo Foundation after seeing the Shine On Hollywood Magazine article about the two Co-Founders and legendary Coach Willy Cahill, former US Olympic and US Paralympic Judo Coach with his inclusion and diversity of creating over 1500 national and international champions in the sport of Judo.
Sports is the catalyst for drawing people together regardless of ethnic, social, economic, religious or political backgrounds including those with disabilities. Inclusion or as Catherine calls it "Inclusivise" is a new term conveying the expansion of diversity transcends barriers where sport can succeed where weapons have failed.
When people are talking about building walls, sport can build bridges.
The power of sport and major sport events can be leveraged to create social legacies. Disabled athletes have consistently proven they have the right to complete and participate in sport, physical education and fitness as demonstrated by the Blind Judo Foundation.
Arnold Garcia, the Founder and Publisher of Shine On Hollywood Magazine (SOHM) reports having "26.6M readers and reaching over 140 countries around the world" learned of the UNESCO Chair Catherine Carty, led to being featured in the Magazine.
To learn more about UNESCO, Catherine Carty and her interesting background check out the June 2017 issue of Shine On Hollywood Magazine.
About us:
The Blind Judo Foundation is a nonprofit 501(c) (3) inclusive organization introducing and training blind and visually impaired individuals in the sport of Judo.
Supporting our blind athletes to train, travel, attend camps and compete domestically and internationally relies upon your help and tax-exempt donations.
All members and Affiliates of the Blind Judo Foundation are volunteers. A select few of our elite athletes go on to represent the USA as members of the US Paralympic (not to be confused with Special Olympics) Judo Team.
More about the Foundation can be seen on our Facebook page. Ron C. Peck can be contacted at roncpeck(at)blindjudofoundation(dot)org or 1-425-444-8256 or Coach Willy Cahill at 1-650-589-0724