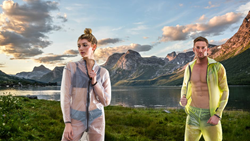 SolTech+ is an innovative apparel line with breakthrough technology aiming to redefine how the world interacts and reconnects with sun in cool weather
New York, NY (PRWEB) March 02, 2017
Hundreds of consumers approved SolTech+, an innovative clothing line that is transforming the health and tanning industry by making it possible to tan in cold weather. Its patented UVTR technology makes it possible to recharge your vitamin D and enjoy the sun's health boosting benefits any time of year.
Earlier this year, SolTech+ launched a highly successful crowdfunding campaign for the TanRound, the first clothing to make tanning in cold weather possible. With the support of hundreds of backers from over 20 countries, the campaign raised more than double its goal and positioned the company for global distribution. The TanRound has received extensive international mainstream media coverage and widespread social media popularity for its health boosting benefits and innovative heat retentive qualities.
SolTech+ followed up the TanRound's success by introducing the multipurpose SolFit collection, a new athletic inspired line that efficiently boosts vitamin D and is designed to be sleek and weather proof. It is available for both men and women as a onesie or two piece set and comes in a range of colors: blue, teal, pink, olive, and black. Color and seasonal customization options will be available soon.
SolTech+ is partnering up with an array of athletes from the extreme sports world to the college level to help facilitate their outdoor athleticism all while enabling them to reconnect with the sun. In addition to rapidly growing popularity in the fitness and wellness community, SolTech+ is starting to get featured by noteworthy social influencers in the urban New York and Los Angeles fashion scene.
The TanRound and SolFit are only available online at http://www.soltech-plus.com. The company plans on expanding to numerous retailers and looks forward to partnerships with players in the health, fashion, and fitness space. SolTech+ is an innovative apparel line with breakthrough technology aiming to redefine how the world interacts and reconnects with sun in cool weather. Find out more on the website or contact the creators at info@thetanround.com