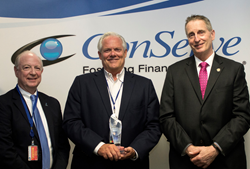 ConServe's commitment to ethics and compliance is steadfast and unwavering.
Rochester, New York (PRWEB) April 19, 2017
At Continental Service Group, Inc., d/b/a ConServe, ethics and compliance drive all their activities. In fact, their business practices demonstrate such a high caliber of character, integrity and respect, the Better Business Bureau of Upstate New York recognized their conduct by presenting ConServe with the 2017 BBB Torch Award.
The BBB Torch Award for Ethics seeks to elevate and celebrate the commitment made by for-profit and nonprofit enterprises to the highest standards of leadership character and organizational ethics. The award is intended to spotlight the practices of organizations that generate a high level of trust, among their employees, customers and their communities.
Upon receiving the accolade, ConServe president Mark Davitt had the following remarks: "ConServe has always conducted business in a manner consistent with improving the human condition. Our commitment to ethics and compliance is steadfast and unwavering…in fact, they are the very cornerstones of our success." He continues "This recognition is extremely meaningful in that it confirms in the marketplace the values we have consistently championed. Our Clients can be confident in the trust they place in us, our employees can be proud of our efforts toward Fostering Financial Freedom® and our communities can be inspired by our corporate citizenship. I am extremely proud of our team of committed employees who regularly embody the ideals of this award."
"BBB is proud to honor ConServe with the 2017 Torch Award for Ethics," said Warren Clark, president and CEO of BBB serving Upstate New York. "ConServe was selected by an independent panel of judges based on an extensive application process. ConServe exemplifies what BBB stands for: Ethics and trustworthiness in the marketplace."