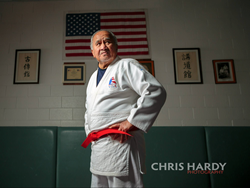 "To laugh often and much; to win the respect of intelligent people and the affection of children… to leave the world a better place… to know even one life has breathed easier because you have lived. This is to have succeeded"...... Ralph Waldo Emerson
(PRWEB) February 20, 2017
The former US Olympic and US Paralympic Judo Coach had dreams of becoming a football coach growing up on Oahu, Hawaii and experiencing polio at the young age of seven. His doctors at the Shriner's Children's Hospital in Hawaii were not convinced Willy, after spending nine months in the hospital would be able to walk out on his own.
John and Abigail Cahill, Willy's parents would not accept that diagnosis and had Professor Henry Okazaki, a masseur come to the hospital seven days per week for nine months to massage Willy's legs with an ointment. Eventually Willy walked out of the hospital on his own. He had a brace for only three months and ultimately fought his way back to normal.
Growing up, Willy was never pressured to participate in Judo. However, his father was one of the top instructors in Judo while Willy was active along with his brothers in high school sports and especially football. Even in the Army Willy spent much of his time coaching football. But things were about to change.
Now living in the San Francisco Bay Area, John Cahill created Cahill's Judo Academy where Willy, not seeing a future in football became interested in Judo. His Dad's goal was to see one of his students (Judoka) become a member of the 1964 US Olympic Judo Team where Judo would be introduced for the first time.
Unfortunately, John Cahill passed away at the young age of fifty in 1962, two years before the first-time Judo would be a competitive sport at the Olympics. However, twenty-two years later in 1984, Brett Barron of Cahill's Judo Academy became a member of the US Paralympic Judo Team fulfilling John Cahill's dream.
Willy remembers well the challenge it would take to create a candidate for the US Olympic Judo Team let alone one Judoka (Judo athlete) for a local tournament. Taking over Cahill's Judo Academy, Willy had his students call him Coach (vs. Sensei or Professor). Now sixty-seven years later he continues to teach and train Judoka in the sport of Judo creating over 1,500 national and international champions, he was promoted to 9th Degree or Kudan in Judo.
The first Gold Medals (Scott Moore & Kevin Szott) won by the USA in Judo were coached by Cahill at the 2000 US Paralympics in Sydney, Australia. It took forty-eight years since Judo was introduced at the Olympics in 1964 for the sighted US Olympic Judo Team to win Gold by Kayla Harrison at the 2012 London Games.
January 2017, Coach Cahill was officially presented with his 9th Degree "Black Belt" which is all Red, by the Chairman of the National Promotion Board of USA Judo, Sensei Patrick Burris.
More about Coach Cahill can be seen in a recent full length article published in the Shine On Hollywood Magazine along with some photos in the same magazine and his Blind Judo Foundation business partner and Co-Founder Ron C. Peck.
Congratulations Coach for your life-time dedication, commitment, and engagement of Judo benefiting others who have had the experience of working and knowing you.
About us:
The Blind Judo Foundation is a nonprofit 501(c) (3) organization who introduces and trains blind and visually impaired children, young adults and our returning blind and visually impaired military men and women in the sport of Judo. Supporting our blind athletes to train, travel, attend camps and compete relies upon your tax-exempt donations.
All members of the Blind Judo Foundation are volunteers. A select few of our elite athletes go on to represent the USA as members of the US Paralympic (not to be confused with Special Olympics) Judo Team.
More about the Foundation can be seen on our Facebook page. Ron C. Peck can be contacted at roncpeck(at)blindjudofoundation(dot)org or 1-425-444-8256 or Coach Willy Cahill at 1-650-589-0724, Co-Founders of the Foundation