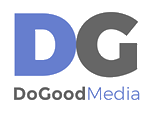 NEW YORK (PRWEB) January 02, 2018
DoGood Media, the world's first and only integrated media company powered by proprietary marketing technology providing advertisers and publishers with billions of high-quality incremental advertising opportunities, today announced the official launch of its new corporate branding and redesigned website, DoGood-Media.com. The revamped site, created by the Company's award-winning team, offers quick and intuitive access to essential information about its services, work and culture.
The new website possesses a minimalistic design, improved functionality and enhanced content for audiences within the advertiser and publisher marketplace. Focused on communicating the Company's mission to accelerate client success through integrated marketing, the website explains both the purposes and benefits for each of its services.
"After experiencing unprecedented growth over the past 3 years, it was time that our branding and web presence represented the current state of our Company and the results-generating work that we continue to produce," said Stephen Jepson, Chief Revenue Officer at DoGood Media. "From conceptualization to execution, the new brand identity and website was a team effort involving each and every member of the DoGood Media team."
DoGood Media's new website will be updated on a regular basis and visitors are encouraged to explore the site and request information from the Company at http://www.DoGood-Media.com.
About DoGood Media, one advertiser, one consumer, one community at a time
Founded by marketing analytics and consumer digital behavioral experts we take a data driven evolutionary approach to media. DoGood Media believes doing good by our partners can also do good by the consumers and the communities we serve and are passionate about creating maximum return on investment in a brand safe environment that creates great, engaging opportunities for advertising partners as well as the consumers viewing them. We are focused on exclusive video content for consumers, the industry's fastest growing recommendation engine for publishers, patent pending viewability technology and results driven advertising for marketers. We deliver very large, highly viewable, clutter free ads to our clients across all digital devices. For more information on DoGood Media, visit http://www.DoGood-Media.com.