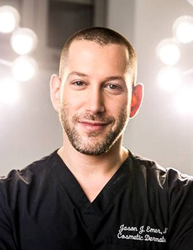 "The 'Finishing Touch' is definitely a beauty treatment for those who want stunning results without settling for something less," says Dr. Jason Emer
BEVERLY HILLS, Calif. (PRWEB) January 03, 2018
Dr. Jason Emer is an expert cosmetic dermatologic surgeon who is not only a fearless problem-solver, but also a compassionate perfectionist. He sees no boundaries in his mission to produce life-changing results for his patients – and this is no more apparent than his avant-garde treatment, the "Finishing Touch." With Dr. Emer's relentless pursuit of delivering outstanding results, this groundbreaking skin infusion treatment can be expertly customized to meet each patient's unique needs.
"The 'Finishing Touch' utilizes the AquaGold Fine Touch device to help our patients have plump, smoother, and radiant skin," says Dr. Jason Emer, board certified dermatologist. "The 'Finishing Touch' uses microchanneling technology to revitalize the entire face, décolleté, neck, and hands. Our patients will see exceptional results and leave the office looking and feeling sensational!"
The AquaGold device is affixed with a fine microneedle that is smaller than a human hair. This needle administers a customized mixture of ingredients -- such as neuromodulators like Botox, hyaluronic acid fillers like Belotero or Restylane Silk, vitamins, antioxidants, and mesotherapy solutions to name a few -- to revitalize the skin's appearance. Patients can discuss their skin concerns and aesthetic goals with Dr. Emer and/or his expert nurse or aestheticians to determine the best mixture or combination for the ideal skin solution. In fact, the "Finishing Touch" is perfect as a standalone treatment or an add-on to one of Dr. Emer's patient-focused treatments.
"With the 'Finishing Touch', we decided to rewrite the book," Dr. Emer says. "By that, I mean that there is no standard mixture to be included, no boilerplate treatment plan, and no set price. For example, one patient might best benefit from a mix of a hyaluronic acid facial filler like Belotero and vitamins while another patient might reach his or her aesthetic goals with a Botox, Belotero, glutathione and vitamin C solution combination. Because each patient is different and the treatment is completely customizable, a set price makes no sense for our unique patients."
The "Finishing Touch" addresses fine lines, increases skin hydration, and stimulates collagen production, and it is very effective following procedures such as facials, laser skin treatment, and microneedling, among others. Combine this versatility with the compassion and artistry that makes Dr. Emer a visionary, and patients have an aesthetic experience that is unmatched. To learn more about the "Finishing Touch", please visit https://JasonEmerMD.com.
"In addition to the versatility and results afforded by the 'Finishing Touch,' it incurs very little or no pain, and most patients don't require a numbing agent," Dr. Emer says. "In fact, the procedure is perfect for those looking to refresh their skin and get the skin they were meant to have without having much downtime. It's definitely a beauty treatment for those who want stunning results without settling for something less."
Dr. Emer on Social Media:
Facebook @JasonEmerMD
Snapchat @JasonEmerMD
Instagram @JasonEmerMD
Twitter @JasonEmerMD
Also, visit https://JasonEmerMD.com/ for more information on the most advanced treatments in cosmetic dermatology and body sculpting.
For Reviews: Realself.com & Yelp.com
Contact: Media(at)JasonEmerMD(dot)com
More Information on Dr. Jason Emer:
Dr. Jason Emer's main practice and passion are liposculpture and body sculpting/etching procedures. For obtaining the best results with the least amount of downtime (and for patient safety reasons), all procedures are performed using a local fluid called "tumescent anesthesia," which allows for a comfortable surgery with little risks. Dr. Emer uses all of the advanced technologies for body contouring/etching to tailor his results to each person's concerns; no single device or type of liposuction is used.
Dr. Emer is a leading expert in cosmetic and laser dermatology utilizing the latest advancements in non-invasive treatments for aging. He utilizes combination treatments to get the ultimate results and customizes treatments to the patient's skin type and long-term goals. His interests include acne and traumatic scars, abnormal pigmentation, burns, and anti-aging/rejuvenation combination treatments. He personally treats all his patients to ensure the best results and doesn't delegate to other staff in most instances.
Visit https://JasonEmerMD.com/ for more information.
Jason Emer, MD
435 N Bedford Dr. Suite 312
Beverly Hills, CA 90210
(424) 320-0813
Media(at)JasonEmerMD(dot)com