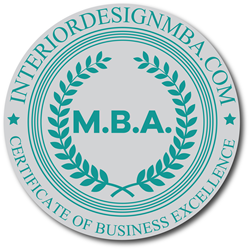 "No one has studied our industry with the academic rigor that David Shepherd provides, yet he has the amazing knack of making complex subjects seem simple."
DALLAS (PRWEB) January 03, 2018
Interior designers now have access to the business education they need to manage their very complex businesses and earn the type of incomes they deserve. The 12-week course is available at http://www.interiordesignmba.com. The next semester begins January 23, 2018, and students may register and take the first three weeks free in order to fairly assess the value of the program.
The Interior Design MBA Program was created by university professor and interior design business expert, David Shepherd. Shepherd has created and taught small business courses for some of the top business schools in the nation, and has now focused those skills on the industry he has worked in since 2002.
Shepherd previously created the industry's largest business skills conference, its largest national coaching network, and has worked as coach and consultant for scores of designers ranging from sole practitioners to principals of 20-person firms.
"I've had the pleasure of meeting hundreds of designers over the years, and it almost never fails that they are bright, creative people who have simply never had the business courses their complex business demands," Shepherd said. "In fact, theirs is probably the most complex business to run I have ever seen, and yet most get no business education along the way.
"I knew if I could reduce what they really need to know into a format that is convenient, accessible, and affordable, I could change many of their lives. These are the same skills that I have used to dramatically improve the profitability of my coaching and consulting clients, and now any designer can learn them in an intensive, 12-week format."
The Interior Design MBA Certificate Program is currently delivered in a 12-week format. Each week, students receive notification that new content has been added to their online dashboard at http://www.interiordesignmba.com. Students watch videos, complete exercises, take quizzes, participate in discussions, and join David Shepherd for six live webinars during the semester-long course.
Students who wish, may work toward an Interior Design MBA Certificate and the rights to use the IDMBA letters and seal on their business cards and other promotional materials. Doing so will alert clients to the fact that they are dealing not only with a creative individual, but one who can deliver their project on time and on budget.
"We believe that over time," Shepherd continued, "the IDMBA brand will become one like LEED or NCIDQ that many clients will look for and even demand. We're excited to be building this brand and will do whatever it takes to make the experience a powerful one for our students."
Those interested in pursuing their Interior Design MBA Certificate may find out more and join an upcoming class free of charge at http://www.interiordesignmba.com. If courses are already in progress, students may still join as all videos, webinars, etc., will be placed in the student's dashboard as soon as complete. Students may, in fact, take the entire course at their own pace and without live interaction, if they wish.
Shepherd is also founder of The Edge, a fast-growing business network for interior designers who want to earn what they deserve. Edge members receive a print newsletter and audio CD each month, filled with case studies, tips, strategies, and inspiration. Members may also attend live monthly coaching events (online) and receive steep discounts on all paid events including the annual Edge members conference held each November.
For information on The Edge, or to start a 30-day free trial membership, please visit http://www.edgemembership.com.
If you would like more information about the Interior Design MBA Certificate Program, please visit http://www.interiordesignmba.com. If you would like more information about The Edge Membership, please visit http://www.edgemembership.com. Both programs offer free trials with no credit card or contract required.