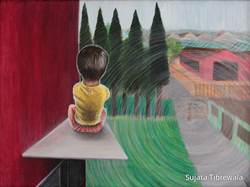 "I believe I can fly because no one told me I cannot..."
SANTA CLARA, Calif. (PRWEB) January 01, 2018
The art exhibit opening on Feb 3rd "Passion and Vision: The Skills of Youth Artists!" at Life Force Arts, Chicago, is about representation of the spirit of youth artists. Eco-feminist artist Sujata Tibrewala is exhibiting her artwork here which tells a story of how growing up in a patriarchal culture effects a female spirit.
Her painting "First Flight" is about a toddler who believes she can do anything. In this painting she was just hitting her one year mark and was not yet told that she was weak. So she could climb a ladder to a window sill which was on the second floor, about 20 feet from the ground. She just sat there looking at the world, while there was a commotion around her from everyone to find her.
Her second painting "Adolescent Dreams" is about a time where she had grown up with a culture where girls were taught to be waiting for a prince charming on a horse who would save her. She had become domesticated, and had learnt that she has to serve her prince in return of him "saving" her. But that was then, and now she knows better. Today she is a strong independent woman, who can take care of herself and her family both physically and financially. She runs fulls marathons, goes on long hikes on weekends, meets the physical rigors of tending to a vegetable garden herself in addition to holding down two jobs, one as an engineer and one as an artist.
World history abounds with examples of women warriors, amazons, and even violent women. The British empire under the rule of queens was the most aggressive empires of all times. The women in villages and farms do as much heavy work as men, and even more at times. So why do women in daily life feel they are not physically strong?
Even a Lion if does not use his muscles for a few days, becomes incapable of catching his own prey, as happens in the Zoos most of the times.
About the artist:
Sujata Tibrewala, a self-taught artist come engineer remarkably embodies the indomitable spirit of human existence through her works. Her works revolve around the theme of eco-feminism. She has exhibited her artworks in some of the most reputed venues around the globe such as University of Illinois, Chicago, Raw San Jose, Parallax Art Fair London, the Regional Commission of Arts St Louis, Life ForceArts Chicago, Mindworks Gallery Chesterfield, St. Louis Artists' Guild, Chesterfield Arts, Art World Association, Women's Caucus for the Arts, MySLART and Lalit Kala Academy, Delhi.
She shifted to the USA in 2010 from India and practices her craft and conducts art workshops at Bay Area, CA, where she resides presently.