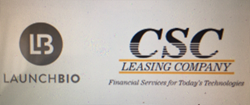 DURHAM, N.C. (PRWEB) January 03, 2018
CSC Leasing, a 30-year leader in equipment financing, based in Richmond, VA, has announced an Innovation Partner sponsorship agreement with LaunchBio, Inc., a national nonprofit, to support educational programs for early stage life science entrepreneurs in the Research Triangle region of North Carolina.
CSC Leasing will be a featured presenter at LaunchBio's recently announced "Larger Than Life Science" program, a monthly event series open to everyone interested in building a strong support network for North Carolina's biotech and healthcare innovators. The company will also hold office hours at The Chesterfield building in Durham, NC, home of LaunchBio and its partner organization, BioLabs North Carolina.
"We see a strong alignment between our company and the innovative startups that LaunchBio and BioLabs North Carolina serve," said John E. Corey, president and CEO of CSC Leasing. "As entrepreneurs ourselves, we understand the need to be capital efficient and flexible. We focus on helping companies obtain the equipment they need to achieve their unique business goals, under favorable terms and conditions. We believe in building long-term relationships that lead to greater productivity, so companies can meet milestones sooner."
"LaunchBio is pleased to work with CSC Leasing to develop programs and services for the companies in our network," said Joan Siefert Rose, CEO of LaunchBio. "They are committed partners, and have helped many local companies with creative, non-dilutive financing options for capital projects. CSC Leasing's support for our Larger Than Life Science program series demonstrates the company's confidence in the potential for growth that LaunchBio and BioLabs North Carolina represent for our community, as both organizations work to accelerate the commercialization of technologies developed at the area's leading research universities."
BioLabs North Carolina operates a 42,000 square foot state-of-the-art shared laboratory space designed as a launchpad for high-potential life sciences and biotech startups. It is part of a network of biotech innovation hubs, with locations in Cambridge, MA; San Francisco; San Diego; and New York City.
LaunchBio's Larger Than Life Science programs will be held on the first Thursday of every month, starting January 4, 2018, at The Chesterfield building in downtown Durham. In addition to presenting at the programs, a representative from CSC Leasing will serve on the planning committee.
About CSC Leasing: CSC Leasing, a 30-year leader in equipment financing, maintains a successful track record working with start-up and emerging life sciences organizations, providing low cost capital for equipment acquisitions, including IT, lab, and manufacturing or production assets. We cover the needs of clients across the country with innovative and competitive leasing programs, which are flexible and tailored to meet a range of unique requirements – always with a focus on the long-term relationship. http://www.cscleasing.com
About LaunchBio: LaunchBio is a nonprofit organization that identifies, counsels, and supports high-growth, high-impact life science and biotechnology companies. Its mission is to build an ecosystem of innovation for the benefit of human health and well-being. LaunchBio's impact is measured by its success in connecting entrepreneurs with knowledge, capital and talent – including each other – not only within geographic regions, but across the nation's leading life science hubs. http://www.launchbio.org