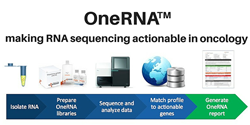 "This is an amazing project that delivers on our mission to save lives and increase the quality of life for the patients while reducing the cost of care"Gitte Pedersen, CEO of Genomic Expression
BOSTON (PRWEB) January 03, 2018
The OneRNA4Bladder project aims to save lives and halve the cost of care for bladder-cancer treatment. Bladder cancer is the most expensive cancer to treat due to expensive diagnostic procedures and ineffective drugs resulting in a recurrence rate of 70%.
The OneRNA4Bladder project, which validates a urine-based diagnostic and liquid-biopsy platform, has already been shown, in a smaller 500-patient study, to outperform cystoscopy in terms of sensitivity and specificity. For this reason, it may substitute the invasive, expensive cystoscopy procedure in the diagnostic workup for bladder cancer and for the identification of recurrence. To our knowledge, no other technology has successfully met this endpoint. Most other non-invasive tests add cost to the management of the disease instead of reducing cost simply because, instead of replacing cystoscopy, the test can only provide a supplement to it.
The new immune checkpoint inhibitors have recently been approved for bladder cancer. However, with a low overall response rate of 15%, this will soon become a very expensive option, driving up cost. Genomic Expression has developed a way to sequence RNA quickly and inexpensively and then link the statistically changes in tumor RNA to drugs that could provide more durable responses. This technology is called OneRNA™, and, applied as a liquid-biopsy platform, it can quickly and effectively diagnose cancer, select treatment, and measure response and recurrence.
Overall, this solution will guide patients toward more effective treatments, reduce the number of cystoscopies and biopsies, identify patients with a higher likelihood of responding to new, expensive immunotherapy treatments, and, finally, reduce the cost of bladder-cancer treatment.
Bladder cancer is the sixth most common cancer globally, with an estimated 357,000 new cases worldwide every year. Its high incidence coupled with its relapsing nature result in the highest lifetime treatment costs per patient of all cancers, accounting for almost $3.7 billion/year in direct costs. A significant part of this cost burden stems from routine use of highly invasive, expensive procedures such as cystoscopy in diagnosis and recurrence monitoring. Replacing routine cystoscopy with the OneRNA4Bladder system could cut the cost of diagnosing and managing bladder cancer in half. Perhaps even more striking, the costs associated with an untimely death due to bladder cancer (i.e., the ''value'' of life lost) approach $7 billion annually. OneRNA4Bladder is expected to significantly minimize the bladder-cancer burden on health care.
The market opportunity for OneRNA4Bladder is $4.5 Billion.
Genomic Expression can start commercializing various components of the technologies as tools for clinical development of drugs e.g. OneRNA™ is already commercially available as a tool to stratify patients into clinical trials. However once the OneRNA4Bladder clinical study is completed, the market for the solution as a diagnostic platform is estimated to $4.5 billion.
About Genomic Expression
Genomic Expression is finding the best drug for the patient and the best patient for the drug by sequencing RNA and linking changes due to cancer to drugs through its proprietary algorithms and databases. Analyzing RNA allows us to tell if a tumor will respond to the new immune therapies, which are the only kind of therapies that are potential cures. Right now, only one out of four cancer treatments prolongs life. We spend $100 billion on drugs every year, and eight million patients die. Genomic Expression was started as the diagnostic partner in the $32M Danish "Genome Denmark." The company now has four in-house clinical programs established in selected cancers with clear unmet needs. The OneRNA™ test can be used on any type of cancer.