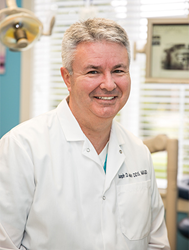 WARREN, Ohio (PRWEB) January 03, 2018
New patients with multiple missing teeth are now welcome to visit Dr. Joseph D. Bedich for an All-on-4® consultation, with or without a referral. All-on-4 full-arch dental implants are a reliable and comfortable alternative to traditional dentures in Warren, OH.
Patients who have one or two missing teeth can often benefit from single dental implant placement, while those with multiple missing teeth or a full arch of missing teeth may be good candidates for implant-supported dentures in Warren, OH. Implant-supported denture appliances, similar to the All-on-4 full-arch solution, are known for their strength and long-term reliability, thanks to the stability of the dental implants, which fuse to the jaw bone and closely imitate a natural tooth root, providing healthy stimulation of the bone.
Unlike traditional dentures, the All-on-4 system is secured in place with four dental implant posts that are placed in the jaw. The two posterior posts are inserted at an angle to make the best use of available bone tissue, so the need for bone grafting is reduced or eliminated for patients with low bone mass. The All-on-4 full-arch system provides immediate function, which means patients can use their new teeth right after they receive them. The All-on-4 system does not carry the risk of falling out of the mouth like traditional dentures, and it does not need to be taken out nightly for cleaning. Instead, patients who receive this system are expected to care for their new teeth by brushing and flossing regularly, just like they would do with real teeth.
Dr. Bedich has been practicing restorative, cosmetic, and implant dentistry for over 35 years. He is a Fellow of the Academy of Implant Dentistry and a Diplomate of the American Board of Oral Implantology/Implant Dentistry, two prestigious titles that set him apart as highly knowledgeable and skilled in his field. He is an experienced provider of dental implants and often recommends them for patients with a single missing tooth, multiple, or a full arch of missing teeth.
Dr. Bedich encourages patients who are considering dentures in Warren, OH, to learn more about the benefits of All-on-4 full-arch dental implants. To schedule an evaluation and find out if they are candidates for the procedure, patients are encouraged to call The Center for Progressive Dentistry at 330-615-1598.
About the Doctor
Dr. Joseph D. Bedich is a general dentist in Cortland, OH offering personalized dental care to patients. Dr. Bedich understands the importance of learning the most cutting-edge techniques, which is why he has taken over 2,500 hours of continuing education in a wide variety of services including sedation, implant dentistry, sleep apnea, cosmetic dentistry and head and neck pain management. To learn more about Dr. Bedich or the services he offers, visit his website at http://www.adazzlingsmile.com or call his office at 330-615-1598 to schedule an appointment.