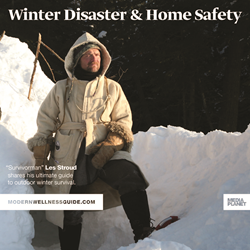 Severe winter weather caused 15% of all insured home, auto and business catastrophe losses in the United States in 2014, and this percentage has risen every year since.
NEW YORK (PRWEB) January 02, 2018
Ahead of a winter season forecasted to break temperature records, and in light of the recent and catastrophic hurricanes, Mediaplanet announces the launch of this past December's edition of "Winter Disaster & Home Safety." This campaign will educate readers about the specific dangers of the coldest months of the year and how they can protect their homes, businesses and families from the winter weather.
Severe winter weather caused 15% of all insured home, auto and business catastrophe losses in the United States in 2014, and this percentage has risen every year since. This not only affects the individual — it affects entire communities in the United States. Last year, total losses from snow and ice were more than $2.3 billion, which is more than double the average from the previous 20 years. If the trend continues, this year will be another one for the books.
In this campaign, Renogy shares more on their current disaster relief efforts. Following the recent rash of hurricanes down south, many in the disaster zone were able to rely on Renogy's Lycan Powerboxs and Phoenix Solar Generators to power critical equipment. In regard to gas generators, Alan Yeung, marketing director at Renogy, states the biggest danger in a disaster is that the power supply will often, "need to be refueled. And often in disasters, like in Puerto Rico, gas is in short supply.
"As confident as we are that the sun will rise again tomorrow morning," he continues, "you can be just as confident that a solar generator will provide you dependable, clean power nearly anywhere, anytime."
The print component of "Winter Disaster & Home Safety" is distributed within today's edition of USA Today in New York, Boston, Chicago, Pittsburgh, Cleveland, Denver and San Francisco, with a circulation of approximately 250,000 copies and an estimated readership of 750,000. The digital component is distributed nationally, through a vast social media strategy, and across a network of top news sites and partner outlets. To explore the digital version of the campaign, click here.
This campaign was made possible with the support of Renogy, the National Safety Council, the American Red Cross, Duracell, Mold Armor, goTenna, The Property Brothers, GAF, National Chimney Safety Institute of America, Mike Holmes, HotLine, Shriners Hospitals for Children, Altaro Software, Paul Davis Restoration and the National Fire Protection Association.
About Renogy
Renogy is a leading expert in renewable energy specializing in Solar. Founded in 2010, Renogy aims to revolutionize the renewable energy industry by offering reliable and cost-effective solutions that are consumer-friendly, plug-and-play and environmentally safe. Renogy's product lineup includes specialized solar solutions and power storages for residential, commercial and off-grid use.
About Mediaplanet
Mediaplanet specializes in the creation of content marketing campaigns covering a variety of industries. We tell meaningful stories that educate our audience and position our clients as solution providers. Our unique ability to pair the right leaders with the right readers, through the right platforms, has made Mediaplanet a global content marketing powerhouse. Our award-winning stories have won the hearts of countless readers while serving as a valuable platform for brands and their missions. Just call us storytellers with a purpose. Please visit http://www.mediaplanet.com for more on who we are and what we do.
Press Contacts:
Richard Sparano
richard.sparano(at)mediaplanet.com
(646) 922-1415
Shelby McNeil
shelby.mcneil(at)mediaplanet.com
(646) 619-3803