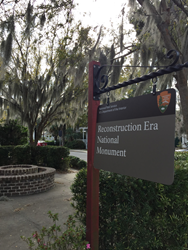 BEAUFORT, S.C. (PRWEB) January 02, 2018
Beaufort, SC and the city's recent proclamation as the first-ever National Park Service unit dedicated to The National Reconstruction Era will be the topic of discussion during a panel at this week's American History Association's(AHA) 132nd annual meeting.
The panel, titled "The Struggle to Commemorate Reconstruction in National Parks," will feature Beaufort Mayor Billy Keyserling, Dr Eric Foner from Columbia University and others including, a National Park Service employee and former Secretary of the Interior, Bruce Babbitt. The panel will discuss the challenges, lessons and efforts that go into preserving and bringing public attention to the Reconstruction Era.
"There have been years of discussion, evaluation and hard work put in to making the Reconstruction Era National Monument possible in Beaufort," said Mayor Keyserling. "I'm looking forward to a thoughtful discussion that will give AHA members a behind-the-scenes look at what went into making this a reality and share how we plan to use the many Beaufort landmarks and historical sites to help educate the public on this important time in American history."
The Reconstruction Era National Monument became reality when former president Barack Obama issued a proclamation for its creation in January 2017. Although there are currently more than 70 park units dedicated to the Civil War, prior to this proclamation, there had been none dedicated to Reconstruction. The Beaufort park unit is the first.
The Reconstruction Era National Monument in Beaufort, SC connects multiple sites throughout the city in relation to political, educational and family reconstruction, including Darrah Hall at Penn Center, Brick Baptist Church, the Old Beaufort Firehouse and Camp Saxton in Port Royal.
The panel will take place Saturday, Jan. 6, 2018 from 1:30 – 3:00 pm in Washington D.C.