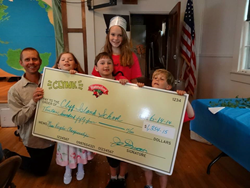 "We strive to encourage local schools to envision recycling as a simple and convenient way to make change (environmental and monetary) by providing tools for an easy and clean, modern-day bottle drive. The Challenge itself is an inspiring way to create momentum and to rally. The Challenge offers a u
SOUTH PORTLAND, Maine (PRWEB) January 08, 2018
CLYNK will launch its seventh annual CLYNK for Schools Recycling Challenge, to take place Jan. 29 through March 26, 2018. CLYNK is urging schools located in towns within a 20-mile radius of CLYNK drop locations (Maine and New York) to participate.
"We strive to encourage local schools to envision recycling as a simple and convenient way to make change (environmental and monetary) by providing tools for an easy and clean, modern-day bottle drive. The Challenge itself is an inspiring way to create momentum and to rally. The Challenge offers a unique way to fundraise and include the entire academic community—from teachers, to students, to parents and family." –Alison Vanderhoof, CLYNK President
CLYNK encourages schools to raise funds by collecting redeemable bottles and cans year-round and CLYNKing at participating Hannaford Supermarkets. During the annual Recycling Challenge each winter, schools get even more change for their efforts. For every one dollar raised in the Challenge period, schools receive a bonus 50 cent match from Hannaford, plus the opportunity to compete for other cash prizes provided by CLYNK. Last year's winners raised an average of $1,500 per school.
The Challenge is offered in both Maine and New York, and schools will only compete against schools in their state. First ($1,500) and second ($1,000) prize will be awarded per state for schools who collect the highest number of redeemable containers. Third place ($500) will be awarded per state for schools that put forth extraordinary effort, as identified by CLYNK. Cash prizes are awarded in addition to the redemption funds and bonus match. Official contest rules can be found at http://www.clynk.com.
CLYNK for Schools Recycling Challenge is a way for schools to raise awareness around the environmental benefits of recycling while working together as one team to raise funds for school discretionary use.
CLYNK offers tours, educational presentations, recycling games and Green Team start-up materials for K-12 schools interested in learning more about dual stream recycling. Schools can email community(at)clynk.com for more information.
About CLYNK
Founded in 2006, CLYNK is one of the fastest growing bottle redemption services in the country, processing under patented technology, over 900 million containers since inception. With this technology, CLYNK is a true disruptor combining bottle redemption and traffic driving capabilities on behalf of its retail partners. Unlike any other bottle redemption service worldwide, CLYNK offers a convenient and easy bag-drop system at retail that eliminates waiting in line, manual count, material separation, and reduces fraud; all concerns which have historically dampened redemption participation and customer satisfaction. CLYNK is