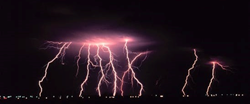 It makes perfect sense to pursue such an elegant natural solution.
PITTSBURGH (PRWEB) January 09, 2018
"The science of the e(aq) should be well-known to the energy community, but it isn't", says Bryan Kelly, KGE founder, attorney and former nuclear power engineer. "Particle physicists got close, but never seem to have taken notice. The best research comes from biochemistry because the e(aq) can damage DNA. Our mission is to develop it as an energy source."
Kelly uncovered the e(aq) while wondering if matter could be generated from light. After years of investigating, he confirmed his suspicion that a new electron can be created by two photons merging within hydrogen orbitals in water clusters.
Now he foresees wide distribution of zero-carbon generating stations, batteries recharging in sunlight and extraterrestrial applications for the new energy source.
The e(aq) improves upon current solar technology because its "hole" can produce a quadrillion new electrons each second and is not just a pathway which must be replenished. "Imagine a solar panel full of water", Kelly says, "but engineered to mimick an electrical storm cloud."
He believes "artificial lightning" is the best way to explain what is essentially a photochemical reaction. "It seems more practical than using excessive heat from radiation and hydrocarbons to boil water that spins coils around magnets to push an electron fifty miles," Kelly says. "The e(aq) is the future. Simple, pure and renewable, with 100% natural efficiency. The numbers are astounding and the science is clear."
The process is described on what he calls a "zero-stage startup website" which says that the evidence has been building in a haphazard manner since 1963. It also references an explanation of the photochemistry in Nature Chemistry.
Kelly expects "that once people accept 'too good to be true' actually is true", interest will soar. He's looking for collaborators, investors or perhaps an environmental group interested in crowdfunding.
He admits that the e(aq) solution may seem speculative at first glance, coming from a "lone wolf and not a national energy laboratory" but is confident "it's idiot proof and inevitable."
"Smarter people than me may have missed this because it's too easy", Kelly says, "nevertheless, it's here now."