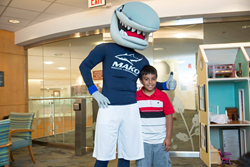 Winning affirms we are doing business the right way says Chad Price Founder of Mako Medical
RALEIGH, N.C. (PRWEB) January 03, 2018
Mako Medical Laboratories sets a new Business Journal record as the only company ever to be ranked #1 two years in a row as the top company for the Fast 50. Mako Medical Laboratories was recently recognized for growth as a 2017 winner of the Business Journal's Fast 50 Award, presented by the Business Journal and PricewaterhouseCoopers. The award, which recognizes the 50 fastest-growing privately held companies. The Fast 50 winners were selected and ranked based on a formula that counts revenue growth and profitability in the preceding years. The numbers are crunched and analyzed by PricewaterhouseCoopers, a Fast 50 partner.
"Our team has worked very hard to make sure the customer and patient experience are world class. Setting records shows our patients love what we do," said Chad Price, Founding Partner at Mako Medical Laboratories. "Winning the top spot for the Fast 50 two years in a row--affirms that we are doing business the right way and people are noticing."
Mako Medical Laboratories has quickly become a national leader in providing top-quality laboratory services to medical institutions in the region. Mako Medical Laboratories handles diagnostic testing for 12 states and is quickly becoming the fastest growing lab in the United States.
Mako Medical Laboratories is a high complexity laboratory that performs diagnostic testing for hospitals, physicians, and urgent care facilities around the country. Mako Medical Laboratories is known for its state-of-the-art facilities, use of robotics, innovative cloud/app technology, and its proprietary method development. Mako Medical Laboratories also handles specialized testing typically only found at the Mayo Clinic. Mako's team is comprised of nationally renowned doctors and Ph.D.'s that have extensive experience with method development. Mako Medical laboratories has pioneered efficient and cost effective solutions for health care professionals around the country. Mako Medical Laboratories only hires U.S. Military Veterans to operate its logistics fleet and has committed life-saving instrumentation to counties in need. Mako Medical also supports missionaries overseas, partners with local community colleges, and supports over 304 charities.