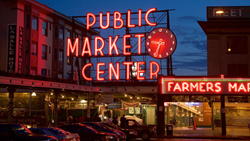 Seattle, Washington (PRWEB) January 03, 2018
Herd Freed Hartz, LLC (HFH) announced today that it has placed Mary Bacarella as Executive Director of Pike Place Market. The position is based in Seattle, Washington. Bacarella brings to the role nearly two decades of leadership excellence at top-tier non-profit organizations, entertainment, arts and tourist attractions. From 2013 to 2015, Bacarella served as the Managing Director of SIFF, the Seattle International Film Festival, where she oversaw 30 year-round employees, 100 festival employees and 700 volunteers. Before her time at SIFF, Bacarella served for 14 years at the iconic Space Needle as Vice President of Brand Management, where she played an instrumental role in the $24 million remodel of the Seattle landmark. She also spearheaded the creation of Chihuly Garden and Glass, a 30-year Dale Chihuly art exhibition that opened at the Seattle Center in 2012.
The nationwide search for Pike Place Market's Executive Director was conducted by HFH Partners Scott Rabinowitz and Fred Pabst.
About Pike Place Market
Founded in 1907, Pike Place Market is the premier historic Farmers Market in the United States. A unique multi-constituent organization boasting a mix of government, non-profit and retail stakeholders, the Market occupies a unique place within the heart of Seattle's dynamic downtown. More than the city's beloved public market, Pike Place Market is a vibrant neighborhood comprised of hundreds of farmers, craftspeople, small businesses and residents. Each group is an important and vital component of the Pike Place Neighborhood.
Encompassing a nine-acre federally-designated historic district overlooking scenic Elliott Bay, the Pike Place Market is both a resource and meeting hub for the diverse local Seattle community and an attraction that draws more than 15 million visitors from around the globe each year.
To learn more about the Market, visit http://pikeplacemarket.org.
About Herd Freed Hartz
HFH delivers focused, flexible, customized executive search and consulting solutions. For more information about the firm, please visit http://www.herdfreedhartz.com.
For more information please contact Scott Rabinowitz, Partner at Herd Freed Hartz at scott(at)herdfreedhartz.com